10/04/2021
Corona Update: 8,500 Corona infection cases a day in Delhi, around 59,000 in Maharashtra
New Delhi: The second wave of corono virus epidemic is wreaking havoc in India after the country's capital Delhi and Mumbai recorded another record spike in fresh cases.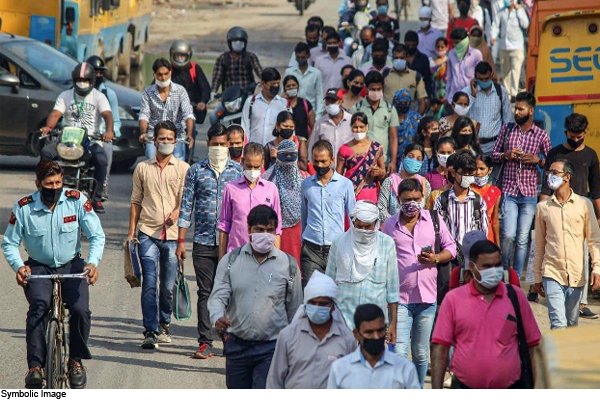 While 8,521 fresh cases were reported in the national capital Delhi, on the biggest single day of this year, Maharashtra saw an increase of 58,993 cases. The Delhi Health Department released the figures saying that 39 people have died due to the disease during the last 24 hours, taking the death toll in Delhi to 11,196. It added that Delhi has 26,631 active Covid-19 cases, while the recovery rate is 96.46 percent, as 6.68 lakh people have recovered from the infection.
Similarly, according to the statistics of Maharashtra Health Department, 301 people died in the state on Friday, taking the death toll to 57,329. According to the data, Maharashtra has a recovery rate of 81.95 percent as it helped 26.95 lakh Covid-19 patients recover from the infection. Currently, there are 5.34 lakh active corona virus cases in Maharashtra.
Both the states of Maharashtra and Delhi are in the grip of the second wave of the corono virus epidemic, forcing the respective state governments to impose curfew at night. Delhi Chief Minister Arvind Kejriwal held an important meeting on Friday to discuss the state of the city-state and decide whether more restrictions should be imposed.
Meanwhile, Maharashtra Chief Minister Uddhav Thackeray has called an all-party meeting on Saturday to decide whether the lockout should be implemented in the state. It is worth mentioning here that the cabinet ministers of Maharashtra – Rajesh Tope and Vijay Wadetivar on Friday said that the state government can do another one, as the cases are increasing at an alarming rate.
Meanwhile, the Union Health Ministry has said that the imposition of the lockout will not help much in controlling the epidemic, given that people should follow the necessary guidelines to help fight the disease.
On Friday, Prime Minister Narendra Modi held an important meeting with all states and union territories (union territories), where he said that large-scale vaccination and micro-control areas should be focused on controlling the epidemic. .
(With agency inputs)