08/03/2021
Corona Update: Central government sends high level public health teams in Maharashtra and Punjab
New Delhi: The trend of increase in daily new cases of Covid-19 is continuing in six states of the country. These states are Maharashtra, Kerala, Punjab, Karnataka, Gujarat and Tamil Nadu.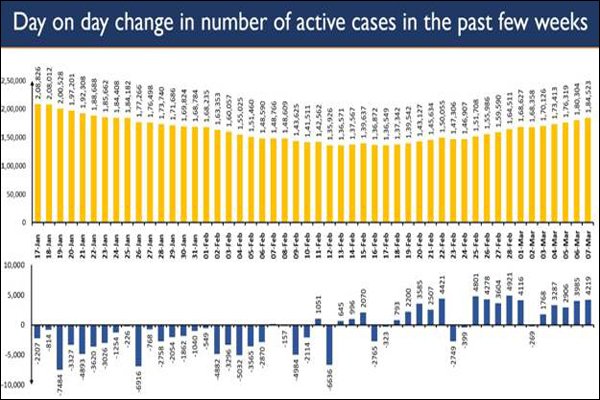 The number of new cases registered in the last 24 hours is 18,711, of which the contribution of these states is 84.71 percent. Maharashtra recorded the highest number of 10,187 new cases yesterday. After this, 2,791 new cases have been reported in Kerala and 1159 in Punjab.
The center is constantly monitoring the situation with states and union territories reporting active cases of new Covid daily. Also, the Center has deputed high-level teams in Maharashtra and Punjab, where rapid increase in new cases is being recorded daily.
The trend in daily new cases is increasing in eight states.
India's total number of active cases has reached 1.84 lakh (1,84,523) today. The number of currently active cases in India is only 1.65 percent of the total infected cases in the country.
The graph below shows the day-to-day changes in active cases from January 17, 2021 to March 07, 2021.
According to the provisional report till 7 am today, more than 2 crore (2,09,22,344) vaccine doses were given through 3,39,145 sessions. These include 69,82,637 HCW (first dose), 35,42,123 HCW (second dose), 65,85,752 FLW (first dose) and 2,11,918 FLW (second dose), 4,76,041 suffering from serious diseases above 45 years of age. The beneficiary (first dose) and the doses given to 31,23,873 beneficiaries over 60 years of age are included.
More than 1.4 million (14,24,693) vaccine doses were given on the 50th day of the vaccination campaign (March 6, 2021). Out of which 11,71,673 beneficiaries were vaccinated in 17,654 sessions of first dose (HCW and FLW) and 2,53,020 HCW and FLW were given the second dose of vaccine.
Covid has killed 100 people in the last 24 hours.
New cases of 87.00 percent deaths are related to six states. Maharashtra had the highest number of deaths at 47. After this, 16 people died in Kerala yesterday and 12 in Punjab.
As the graph below shows, in the last two weeks, no deaths from Covid-19 have been reported in 10 states, while 1 to 10 deaths have been reported in 12 states.
In nineteen states / union territories no deaths have been reported from Kovid-19 in the last 24 hours. These States / Union Territories – Rajasthan, Uttar Pradesh, Chandigarh, Uttarakhand, Goa, Odisha, Himachal Pradesh, Jharkhand, Sikkim, Lakshadweep, Ladakh, Manipur, Meghalaya, Nagaland, Daman & Diu, Dadra & Nagar Haveli, Tripura, Mizoram , Andaman and Nicobar Islands and Arunachal Pradesh.