28/02/2021
Corona Update: Central investigation teams sent to deal with Corona in states
New Delhi: The total number of active cases in India today stands at 1,64,511. The current number of active cases in the country is now only 1.48 percent of the total infected cases in the country.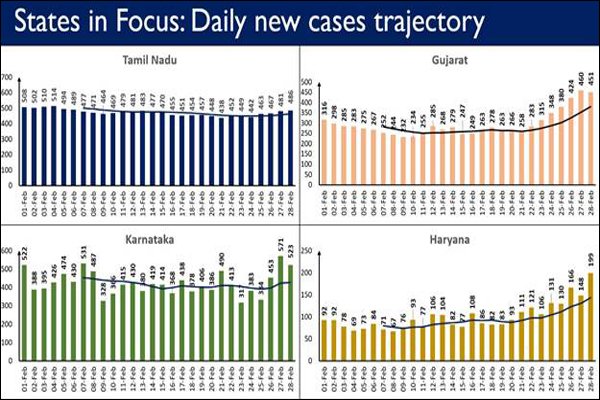 In six states – Maharashtra, Kerala, Punjab, Karnataka, Tamil Nadu, and Gujarat have recorded an increase in new cases of Covid during the last 24 hours. These six states account for 86.37 percent of the new cases. During the last 24 hours, 16,752 new cases have been registered in the country. 8,623 new cases have been detected in Maharashtra. There is a steady increase in new cases in the state. After this, 3,792 new cases have been detected in Kerala and 593 in Punjab. There is a trend of an increase in daily new cases in 8 states.
The central government is vigilant with states and union territories on active and daily new cases of Covid. The Cabinet Secretary yesterday chaired a high-level review meeting with the States / Union Territories showing an increase in the cases of Covid including Telangana, Maharashtra, Chhattisgarh, Madhya Pradesh, Gujarat, Punjab, Jammu and Kashmir, and West Bengal.
The cabinet secretary reiterated that the states need to be constantly vigilant to maintain the gains made from last year's collective labor. Advising states to maintain strict vigilance, Kovid has been asked to implement appropriate behavior and deal strongly with related violations. It was strongly underlined that states would follow effective monitoring and tracking strategies in relation to potentially super-spreading events. It also stressed the need for effective screening, comprehensive tracking, quick isolation of positive cases, and quick quarantine of close contacts.
The Center has deputed multi-specialty high-level teams for Kerala, Maharashtra, Karnataka, Tamil Nadu, West Bengal, Chhattisgarh, Punjab, Madhya Pradesh, Gujarat, and Jammu and Kashmir (UT) to see the reasons for the rise in Covid-19. To detect and coordinate with the state health department in its control and prevention measures.
According to the provisional report received till 7 am today, a total of 1,43,01,266 vaccine doses have been given through 2,92,312 sessions. These include 66,69,985 HCW (first dose), 24,56,191 HCW (second dose) and 51,75,090 FLW (first dose).
India is fully prepared to start the second phase of Covid-19 vaccination from March 1, 2021 for all citizens above 60 years of age and all citizens in the age group of 45 years with specified co-morbidities. To increase the Covid-19 vaccination capacity, about 10,000 private hospitals under the Ayushman Bharat-PMJAY and more than 600 private hospitals under the Central Government Health Scheme will be used. Other government hospitals have been approved for use under the state government. The health insurance scheme can be used as a Covid-19 Vaccination Center (CVC).
The list of CGHS enrolled hospitals that can be used by states / UTs as Covid-19 vaccination centers can be seen here:
The list of hospitals that states can use as Covid vaccination centers under Ayushman Bharat-PMJAY can be seen here:
So far, a total of 1.07 crore (1,07,75,169) patients have been cured with Covid. In the last 24 hours, 11,718 patients were cured and have been discharged from hospitals.
84.19 percent cured new patients are from 6 states/union territories.
A maximum number of 4,650 new patients a day has been cured in Kerala. While 3,648 people were cured in Maharashtra in the last 24 hours, followed by 491 in Tamil Nadu.
113 covid patients have died in the last 24 hours.
The cases of death of 84.96 percent of new patients of Covid are related to six states / UTs. Maharashtra has the highest number of deaths of 51 Covid patients, while Kerala and Punjab have lost 18 and 11 new patients respectively during the last 24 hours.
In nineteen states / UTs, no patient has been reported dead from Covid-19 during the last 24 hours. The names of these states/union territories are Uttar Pradesh, Andhra Pradesh, Jammu and Kashmir (UT), Odisha, Goa, Chandigarh, Himachal Pradesh, Assam, Lakshadweep, Manipur, Sikkim, Ladakh (UT), Mizoram, Meghalaya, Tripura, Nagaland, Andaman and Nicobar Islands, Daman and Diu, Dadra and Nagar Haveli and Arunachal Pradesh.