21/12/2020
Corona Update: Covid-19 cases fall sharply, active cases 3 lakhs
New Delhi: The pace of India's active cases is steadily slackening and the number of patients is decreasing rapidly. At present, there are a total of 3.5 lakh (3,05,344) active cases of infection in the country. This has been possible due to the reduction in new cases on a daily basis and the mortality rate remaining at the lowest level, due to which a large number of active cases of Covid-19 have been reported in the country.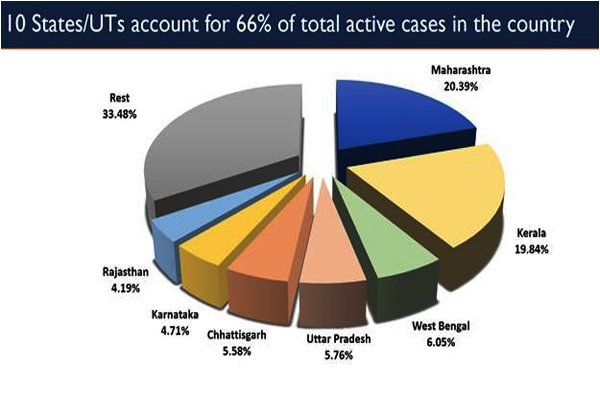 India's current active caseload is only 3.4 percent of the country's total positive cases. In the last 24 hours, 29,690 Covid-19 patients became healthy. Thus the total number of active cases has decreased by 3,407.
Of the total active cases in the country, 66 percent of patients are from 10 states and union territories.
During the last twenty-four hours, 26,624 new patients have appeared. For the last 21 days, less than 40,000 new cases are being reported on a daily basis.
The total number of healthy people has increased to close to 96 lakhs (9,580,402).
The difference in the number of new patients and the number of patients recovering from Covid-19 has improved to 95.51 percent.
74.68 percent of the recovered patients are from 10 states and union territories.
The maximum number of 4,749 patients in Kerala in the past day has been free from corona infection. In Maharashtra, 3,119 people recovered yesterday and 2,717 patients in West Bengal have recovered from Corona.
76.62 percent of the new cases of infection are from 10 states and union territories.
Kerala recorded the highest number of new cases at 6,293 daily. Subsequently, 3,940 new patients have been detected from Maharashtra.
In the last twenty-four hours, 341 people have died from Covid-19.
Of these, 81.23 percent of deaths have occurred in ten states and union territories only.
Maharashtra had the highest number of deaths at 74. West Bengal 43 and 32 people in Delhi lost their lives due to this epidemic.