16/03/2021
Corona Update: India's achievements in fighting against Covid-19
New Delhi: In the fight against the Covid-19 epidemic, India has achieved many significant achievements.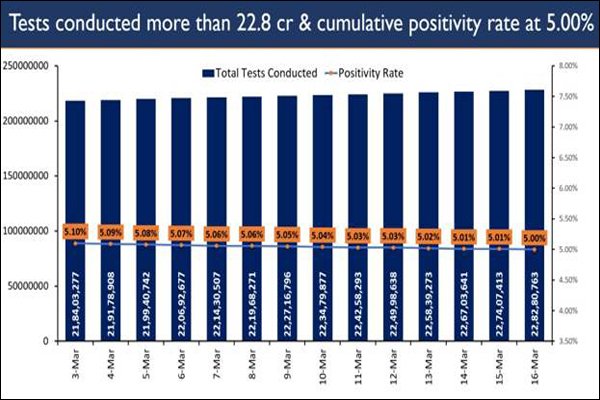 Achieving another significant achievement in this episode, the total vaccination coverage in India has crossed 3.29 crores. Yesterday, India recorded the highest number of vaccinations in a single day, with more than 3 million vaccine vaccinations. Coverage of beneficiaries over 60 years of age has crossed 1 crore in just 15 days.
According to the provisional report received till 7 am today, 3,29,47,432 vaccine doses have been given to people through 5,55,984 sessions in the country. These include 74,46,983 HCW (first dose), 44,58,616 HCW (second dose), 74,74,406 FLW (first dose) and 14,09,332 FLW (second dose), 18,88,727 suffering from other diseases above 45 years of age. The beneficiary (first dose) and the doses given to 1,02,69,368 beneficiaries above 60 years of age are included.
On the 59th day of the vaccination campaign (March 15, 2021), 30,39,394 vaccine doses were given. Of these, 26,27,099 beneficiaries were given the first dose of vaccine through 42,919 sessions (HCW and FLW) and 4,12,295 were given the second dose of vaccine to HCW and FLW.
Five states, Maharashtra, Punjab, Karnataka, Gujarat and Tamil Nadu, are reporting a steady increase in new cases of Covid. In the last 24 hours, 79.73 percent of the new cases reported in Corona were reported in these states.
In the last 24 hours, 24,492 new cases of corona were registered.
Maharashtra has the highest number of 15,051 daily new cases reported. This is followed by 1,818 cases in Punjab, while 1,054 new cases have been reported in Kerala.
8 states are witnessing a steady increase in corona cases on a daily basis. These states are: Maharashtra, Tamil Nadu, Punjab, Madhya Pradesh, Delhi, Gujarat, Karnataka and Haryana.
There has been a steady decline in Covid cases in Kerala during the last one month.
The total active cases (caseloads) of corona in India today are 2,23,432 lakhs. Currently active cases in India constitute 1.96 percent of the total positive cases in the country. In the last 24 hours, 24,882 new cases of corona were registered.
Maharashtra, Kerala and Punjab together account for 76.57 per cent of the total active cases in India.
The total number of tests conducted in the country is more than 22.8 crore (22,82,80,763). The overall national positive rate currently stands at 5%.
Covid has killed 131 people in the last 24 hours.
New cases of death are 82.44 percent related to seven states. In the last 24 hours, the highest number of 48 patients died in Maharashtra. After this, 27 people have died in Punjab and 11 in Kerala.
In 16 states / Union Territories no deaths have been reported from Covid-19 in the last 24 hours. These states / union territories include Rajasthan, Chandigarh, Jammu and Kashmir, Odisha, Jharkhand, Lakshadweep, Sikkim, Ladakh, Daman and Diu, Dadra and Nagar Haveli, Meghalaya, Manipur, Tripura, Nagaland, Mizoram, Andaman and Nicobar Islands, and Arunachal Pradesh is included.