25/11/2020
Corona Update: rapid increase in detection capability; number reached 13.5 crore
New Delhi: India has demonstrated a steady increase in the infrastructure to test Covid-19 since January 2020, resulting in a rapid increase in the number of investigations. The total test count has reached 135 million (13,48,41,307), with 11,59,032 tests conducted in the last 24 hours.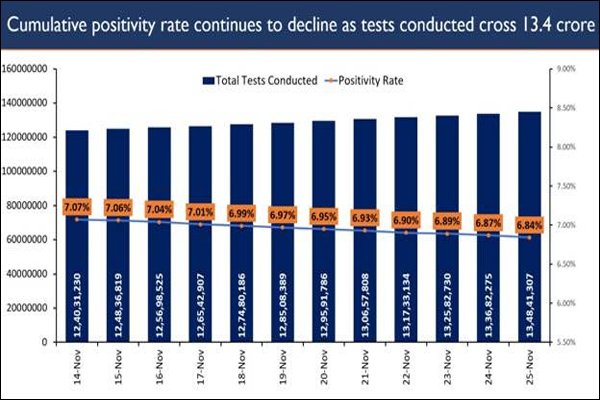 Extensive and detailed testing on a continuous basis has resulted in a decrease in the positive rate of cases. A significant decline in the rate of Kovid cases at the national level has been reported, indicating that the rate of spread of infection is effectively limited. The rate of positive cases has been falling continuously and now it has reached 6.84 percent.
The decreasing trend of positive cases at present is a testimony to the widespread expansion of available testing facilities in the country.
Today, the daily rate of positive Kovid cases is 3.83 percent.
Continuous and progressive expansion in the test infrastructure of covid samples has played an important role in the growth of testing numbers. There is a substantial increase in daily testing capacity with the availability of a total of 2138 testing laboratories including 1167 government laboratories and 971 private laboratories in the country.
As a result, the number of tests done per million per day in India is five times higher than the World Health Organization – WHO standard.
India's current active cases (4,44,746) constitute 4.82 percent of the total positive cases and remain below 5 percent.
The recovery rate of patients is currently above 93 percent as about 93.72 percent of all cases have been cured by now. In the last 24 hours a total of 37816 people in the country have become infection free, so far 86,42,771 patients have been cured of this infection.
The gap between the total number of Kovid infected and the current patients has been increasing steadily and currently stands at 81,98,025.
77.53 percent of the newly cured patients are from 10 states / union territories.
In the last 24 hours, the highest number of 5149 Kovid patients from Kerala has become infection free. 4943 patients have recovered in Delhi, while 4086 new patients have recovered in Maharashtra.
In the last 24 hours, 44,376 confirmed confirmed cases of Kovid have been reported.
The contribution of 76.51 percent of new positive cases has come from ten states and union territories. Delhi has reported the highest number of 6224 new patients in the last 24 hours. 5439 cases were reported in Maharashtra while 5420 Kovid patients were confirmed in Kerala yesterday.
In the last 24 hours, 481 people have died from this infection. Of these, 74.22 percent deaths have occurred in ten states and union territories only.
Kovid has claimed the highest number of 109 deaths in Delhi. In West Bengal, 49 patients died and then 33 patients succumbed to the disease in Uttar Pradesh.