22/02/2021
Corona Update: Vaccination coverage in India exceeds 1.11 crore
New Delhi: India has made a cumulative test number record of Covid-19. The COVID probe number in India has crossed 21.15 crore (21,15,51,746). There were 6,20,216 investigations in the last 24 hours. There has been such an increasing number of investigations in India due to progressively increasing the investigation structure across the country. There are 2393 testing laboratories in India, including 1,220 government laboratories and 1,173 private laboratories, which has greatly increased the daily testing capacity.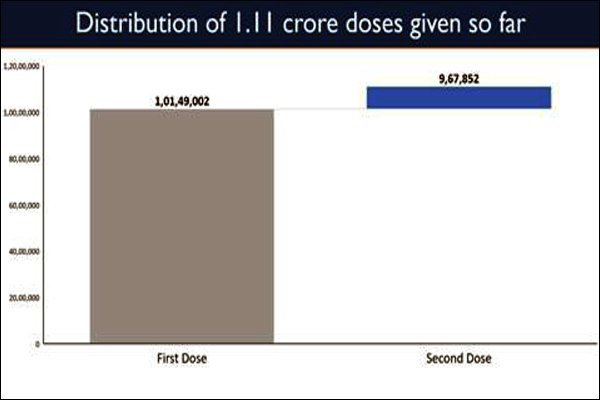 India's cumulative national positivity rate is 5.20 percent. The number of beneficiaries tested per million per day is increasing steadily. The number of investigations per million in India today is 1,53,298.4.
Immunization coverage stood at 1,11,16,854 till 2200 hours on February 22, 2021 and 2,32,317 sessions of immunization were conducted. These include 63,97,849 HCW (first dose), 9,67,852 HCW (second dose) and 37,51,153 FLW (first dose).
The second dose of ovid-19 vaccine started from 13 February 2021 for the beneficiaries who completed the 28-day period after taking the first dose. The vaccination of FLW began on February 02, 2021.
On the 37th day of the vaccination campaign (February 21, 2021), 31,681 doses of vaccine were given. Of this, 24,471 beneficiaries were vaccinated in 1,429 sessions for the first dose (HCW and FLW) and 7,210 HCWs took the second dose of the vaccine. Out of the total 1,11,16,854 doses of vaccines, 1,01,49,002 (HCW and FLW) were awarded the first dose and a total of 9,67,852 HCW doses.
The dose of 60.17 percent of the total vaccines remained concentrated in seven states. 11.8 percent in Karnataka alone (1,14,043 doses)
Today, India's cumulative recovery in terms of recovery stood at 1.06 crore (1,06,99,410). The recovery rate was 97.22 percent. Recovery cases increased from active cases to 1,05,49,355 (71.3 times).
In the last 24 hours, 9,695 patients recovered and were discharged.
80.86 percent of the cases reported were concentrated in five states. Kerala had the highest number of cures in a single day with 4,345 new cases of recovery. In the last 24 hours, 2,417 people have recovered in Maharashtra and 460 in Tamil Nadu.
The country's active case load today is 1.50 lakh (1,50,055). Currently active case load comprises 1.36 percent of India's total positive cases. 14,199 new daily cases were recorded in the last 24 hours.
In the last 24 hours, no new cases of Covid-19 were reported by seven states / UTs. These states are Uttarakhand, Ladakh, Meghalaya, Mizoram, Daman and Diu, Dadra and Nagar Havelitha and Andaman and Nicobar Islands.
86.3 percent of new cases have come from five states.
The highest daily new cases in Maharashtra stood at 6,971. 4,070 new cases were registered in Kerala and 452 new cases in Tamil Nadu.
There have been no deaths from Covid-19 in 19 states / UTs in the last 24 hours. These States / Union Territories – Haryana, Andhra Pradesh, Jammu and Kashmir, Rajasthan, Odisha, Goa, Chandigarh, Assam, Manipur, Sikkim, Lakshadweep, Tripura, Nagaland, Ladakh, Meghalaya, Mizoram, Arunachal Pradesh, Daman and Diu, Dadra and Nagar Haveli, Andaman and Nicobar Islands.
83 people died in the last 24 hours.
78.31 per cent of new deaths were found in five states. Maharashtra had the highest number of deaths at 35 and 15 died in Kerala.