13/01/2021
Corona Vaccine: India will get cheapest vaccine of the world
New Delhi: The corona vaccine that the whole world was waiting for, will soon be available in the market. But, with the introduction of the vaccine, everyone is confused about its prices. However, India is buying the vaccine at cheaper rates than other countries. So, it is obvious that in India the Corona vaccine will be available cheaper than the whole world. The Health Ministry said on Tuesday that the two Corona vaccines available in India will be available at the cheapest price in the world. Because companies are not selling them at market price.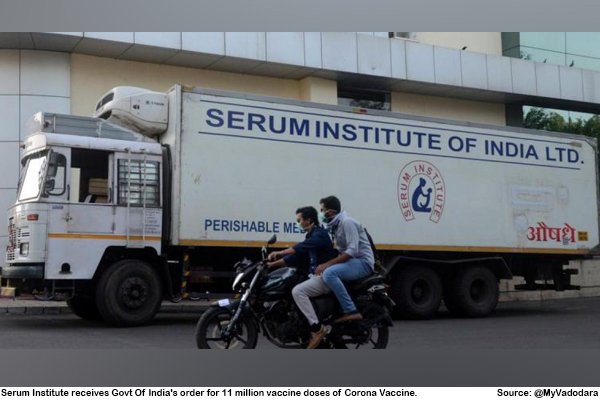 India will provide 16 lakh doses free of cost to the biotech government. According to this, Bharat Biotech vaccine is available at a price of Rs 206 per dose. On this basis, it can be said that India has purchased vaccines at cheaper rates compared to the vaccines that are being used in other countries of the world. Pfizer vaccine 1431, Moderna 2348 to 2715, Sinopharm 5650, Sinobac Biotech 1027, Novax 1114, Sputnik 734, a Johnson & Johnson vaccine for Rs 734. In this way, this vaccine will be available at the cheapest rates in India.
Union Health Secretary Rajesh Bhushan said on Tuesday that 1.65 crore vaccine doses will be made available across the country in the next 2 days, which will start the campaign. 54.70 lakh doses have been received till Tuesday evening. 1.10 crore dose has been taken at the institute at a price of Rs 200 per dollar. While 3.5 million doses have been purchased from Bharat Biotech at a price of 300 dollars.
According to the Health Secretary, the option of choosing the vaccine will not be available to the beneficiary. He said that this is the practice in countries where more than one vaccine is available.
Some of the cheapest vaccines available globally are Russian Sputnik-V and are being developed by Johnson & Johnson, which costs around Rs 740 in each dose.
Speaking to the media in Pune, SII CEO Adar Poonawala said that the special price of Rs 200 for the vaccine is for the government only. He said, this price will be applicable for the supply of 5.6 crore doses. 56.5 lakh doses of Kovishield have been sent by trucks from Pune to various states. Poonawala also said that when the vaccine is sold in the private market, it will cost around ₹ 1,000.
Vaccine storage
Bhushan said that from four general medical supply depots in Chennai, Karnal, Kolkata and Mumbai, under the control of the respective state governments, the vaccines would be delivered to the regional vaccine centers. All states have at least one regional vaccine center. However, there are nine centers in Uttar Pradesh, four each in Gujarat and Madhya Pradesh, three in Kerala, and one each in Karnataka and Rajasthan.
It is necessary to take vaccine twice daily
Bhushan said that two-two doses of any vaccine should be applied at least at 28 days interval. In such a situation, if people feel that after a dose of vaccine they no longer have any fear then it is wrong. He folded his hands and prayed that even after getting both doses, following the vigilance rules would be mandatory only when vaccination would be effective.
Vinod Paul, Member (Health), NITI Aayog, stated that both the vaccines are safe, immune and devoid of any side effects. He said that they are actually safer than many other vaccines used for routine vaccination in the country.