11/04/2021
Corporation councilor Sanjay Goyal boosts people's enthusiasm on 'Teeka Utsav'
New Delhi: 'Teeka Utsav' is being organized from April 11 to 14 in the country on the call of Prime Minister Narendra Modi. PM Modi on Thursday said that states should organize a 'Teeka Utsav' from April 11 to 14 to ensure optimum utilization of their Covid-19 vaccination capacity.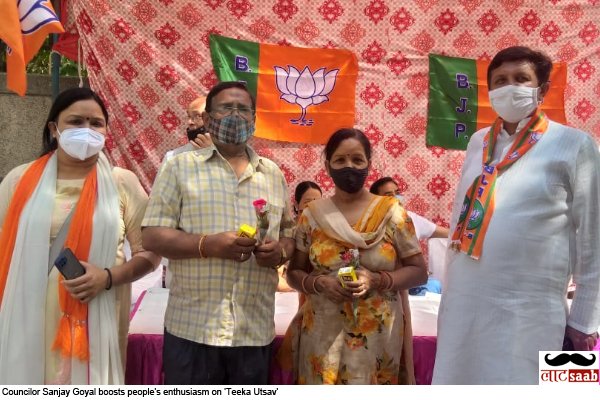 This festival has started from today. Usually, you must have celebrated a lot of festivals, but this festival is different. This festival is to save lives. This festival is to protect ourselves and our loved ones from the global epidemic. This festival is about vaccination. On this occasion, Sanjay Goyal, a corporator of Vivek Vihar, encouraged the people.
In this series, vaccination is being done in the vaccination center of Phase-2, Vivek Vihar in East Delhi. A crowd of people had gathered at the vaccination center since 9 o'clock in the morning. Token arrangements were made there. People were being given tokens. People were getting themselves registered by queuing up. After that, they were being vaccinated. After being vaccinated, you were being asked to sit for about half an hour.
After getting the vaccine, Corporation Councilor Sanjay Goyal is encouraging people by giving them flowers and fruity so that more and more people can participate in this festival by getting the vaccine in this 'Teeka Utsav'.
Let me tell you that India's fight against the Corona epidemic has been spectacular so far. Compared to the developed countries of the world, we were not only able to limit the epidemic to a great extent, but at one time it seemed that India was going to be free from this virus. At the same time, a second wave of epidemics began to arise in some states. Now whatever is the reason for this, but the second wave is not giving a chance to recover. The large population of the country is desperate to catch this epidemic. There are currently only two options to prevent this. Integrity and strict compliance with vaccination and corona regulations.
On this occasion, PM Modi said, "This festival is in a way the beginning of another big war against Corona. In this, we have to give special emphasis on personal hygiene as well as social hygiene. "PM Modi also said that we must remember these four things.
Each One- Vaccinate One, that is, those who are less educated, elderly, who cannot go and get vaccinated themselves, help them.
Each One- Treat One, that is, people who do not have the same means, who are less aware, help in the treatment of corona.
Each One- Save One, that is, I should wear a mask myself and thus save myself and save others as well, this has to be emphasized.
And the fourth important thing, in the event of someone being a corona, the people of the society should lead the creation of a 'Micro Containment Zone'. Where there has been a positive case of a single corona, there should be a family, people of the society to create a 'Micro Containment Zone'.