New Delhi: Deep Sidhu, a Punjabi actor who turned violent on Republic Day, was arrested by the Special Cell of the Delhi Police on Tuesday morning. He was later sent to 7 days of police custody in the evening.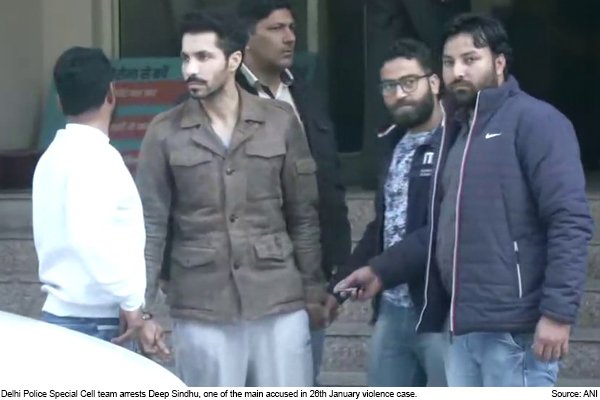 Deep Sidhu was presented by the Crime Branch in the court of Metropolitan Magistrate Pragya Gupta. The police had asked for a 10-day remand for Deep Siddha, but the court refused, saying that you first inquire for 7 days, after which the remand will be considered.
Police said Sidhu campaigned for BJP's Sunny Deol in the 2019 elections, inciting the crowd during the tractor rally and violence. Last week, Delhi Police announced a cash reward of Rs 1 lakh each for information about Sidhu and his two associates.
Police said that several raids were conducted in Punjab and Delhi to search for the accused. So far, over 44 FIRs have been registered in connection with the violence on Republic Day and 127 people have been arrested.
After the tractor rally on 26 January, there was widespread public outrage at protesters hoisting the religious flag at the Red Fort. Sidhu, who was present during the incident, sought to defend his action saying that he did not remove the national flag and as a symbolic protest put up the flag of 'Nishan Sahib'.
Deep Sidhu was on the run for more than 2 weeks. In the meantime, he uploaded two videos on his Facebook page, claiming that people 'on their own' marched from all the borders of Delhi towards the Red Fort on 26 January. He said that many people have not taken the path decided by the farmer leaders. In this video, he declared himself innocent.
Significantly, Deep Sidhu had given an open warning to farmer leaders through Facebook Live a few days ago. Annoyed at calling himself a traitor, Sidhu had threatened the farmer leaders that if he opened his mouth and began to open up the inside of the peasant movement, these leaders would not find a way to escape.
Let us tell you that on January 26, a mob of miscreants reached the Red Fort and created a terrible panic and hoisted their religious flag. The incident of hoisting the Nishan Sahib on the ramparts was criticized throughout the country. Farmers' organizations separated themselves from the incident and held Deep Sidhu responsible. Many policemen were also injured in this incident.