21/01/2021
Develop workers' skills to gain a foothold in the global textile market: Venkaiah Naidu
New Delhi: Vice President M Venkaiah Naidu has emphasized on skill development of workers and adopting modern technology to gain a foothold in textile exports and the global textile market. He said today that even though we have plenty of raw material and human resources available, we are far behind in global textile exports as small textile companies are still using old technology.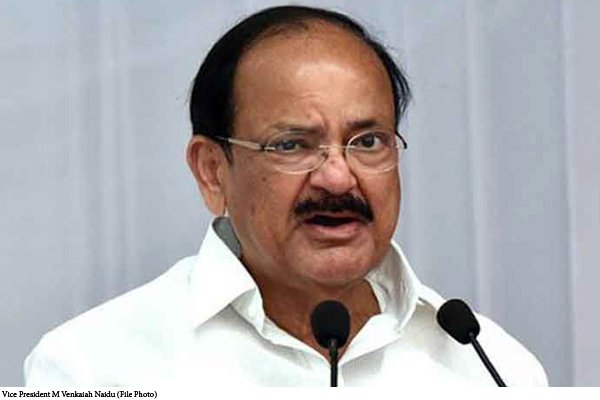 Inaugurating the Virtual Platform of Textile Export Promotion Council (AEPC), Mr. Naidu said that unless the average quality textile manufacturing units use new technology and skilled human resources, we will not be able to produce quality products at competitive prices globally. . Only through skill development of new technology and human resources, it will be possible to take full advantage of the economic capabilities and employment opportunities of the textile sector. Describing the Revised Technology Upgradation Fund Scheme (ATUFS) as an excellent scheme for small companies, he said that concerted efforts should be made to benefit small companies in the second and third-tier cities.
Describing this as a commendable initiative, he hoped that it would prove to be a long-term help in promoting Indian apparel exports worldwide. He appreciated Mrs. Smriti Zubin Irani for the initiatives being taken by the Ministry of Textiles.
Referring to India's share of global textile exports at just 6 percent, the Vice President said that to increase this share, small textile manufacturing units should be financed so that they can produce products that are globally competitive. In this context, he appreciated the NITI Aayog's same plan under which the Commission plans to form large textile companies in collaboration with the Ministry of Textiles to promote exports.
Naidu said that India's leadership and strength in the global market competition should be from a skilled labor force and not just a cheap labor force.
The Vice President called on textile entrepreneurs to diversify their manufacturing portfolio and tap new markets to meet the changing global demands. He emphasized the importance of branding to achieve a good price for apparel and advised entrepreneurs to make clothes under the brand.
He said that with such efforts and with the support of the Ministry of Textiles and the initiative of the IPC in promoting exports, India will soon be able to increase its share in global textile exports from the current 6 percent to double-digit.
Citing the many important roles played by the textile sector in the economy, Shri Naidu said that it is the second-largest employment sector providing direct employment to about 40 million people. He said that this region can also play a big role in exploiting economic benefits through the country's population. It is a very important foreign exchange earning industry for India which contributes about 12 percent of the country's export earnings.
Citing the increasing labor force participation of women in the apparel sector, she termed it as an effective medium of social change in remote areas through the financial empowerment of women. She said that women constitute 50% of our talent pool if they are given proper encouragement and training then they can excel a lot. The development of the textile sector can also lead to positive results in women's education and fertility.
He called upon textile entrepreneurs to explore opportunities in a growing global market, citing the immense potential for the textile industry in emerging sectors like technical textiles. He said that this market is likely to reach the US $ 220 billion by 2022.
Naidu praised the recently announced production-linked incentive PLI scheme for man-made fiber (MMS) and technical textiles by the government. He also directed the production and export of medical clothing (PPE kit face shield mask and gloves) during the epidemic. He also appreciated the efforts of AEPC and the Ministry of Textiles for promotion.
He said that as a result of these efforts, India today has reached second place in the world in the production of PPE kits.
The virtual event was attended by Smt Smriti Zubin Irani, Minister of Textiles, Dr. Ek Shaktivel, Chairman of AEPC, Textile Exporters, and several representatives of the textile industry and dignitaries.