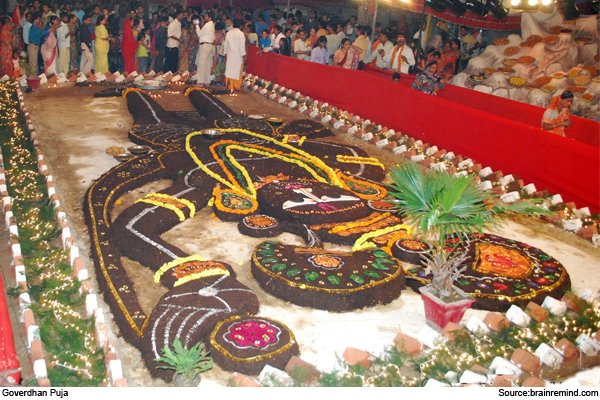 Govardhan festival is celebrated on the second day of Diwali. On this day, Govardhan is worshiped as Lord Krishna. This day is also known as Varshapati which signifies the coronation of King Vikramaditya. The Vikram-Samvat (Hindu calendar) began on this Padwa day.
Govardhan worship
Govardhan is a small hill in Braj near Mathura, and on this day people build hills with cow dung, decorate them with flowers and worship them. Legend has it that Lord Indra submerged Gokul in terrible rage. But Krishna saved his Gokul by raising the Govardhan mountain with his little finger and holding it above the people as an umbrella. He saved and protected the people of Gokul from the God of heaven, Indra.
The people of Mathura celebrate this day as Annakoot. The people of Mathura stay awake all night and cook Chappan or 108 different types of food for bhoga (offerings of food) to Krishna. Especially in temples in Mathura and Nathdwara, the deities are given milknath, dressed in shiny dress with shining diamonds, pearls, rubies and other precious stones ornaments. After prayers and traditional worship, a variety of delicious sweets are offered as 'bhog' to the deities and then the devotees receive prasad from it.
Worship method
On this day, people build a mountain with cow dung in the courtyard of their house and worship it by burning water, molly, roli, rice, flower curd and oil lamp. It is made in the shape of a reclining male. After this, this mountain made of cow dung is rotated. After this, they are offered Annakoot to appease the God of Braj who is called Giriraj.
Worship time
The evening muhurta of Govardhan Puja is from 3 pm to 19 minutes from 5 pm to 27 minutes. Pratipada date will start from 10 AM to 36 AM on 15 November and will remain for 7: 6 AM on 16 November.
What is 56 Bhog
Lord Krishna used to eat eight times in a day. When Lord Krishna raised the Govardhan mountain to save all the Vrajas from the wrath of Indra, then for seven consecutive days, God did not consume food for seven days. Therefore, the Vrajvasis offered him 56 as per 8 o'clock for 7 days.
Also read in Hindi: Diwali 2020: आज है गोवर्धन पूजा, जानिए पूजन की विधि, समय और महत्त्व