30/01/2021
Explosion outside the Israeli embassy, big conspiracy suspected, the police is investigating
New Delhi: Minor bombings in the country's capital point to a deep conspiracy. The blast was also carried out on the same day when the Beating Retreat Program was going on about one and a half kilometers away, in which the President, Prime Minister, and many dignitaries were present.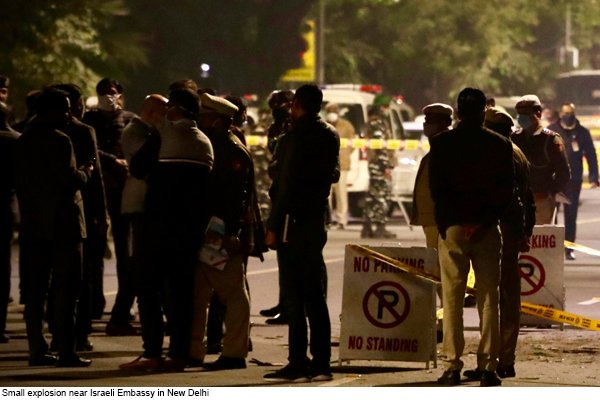 The Delhi Police is looking for clues related to the blast. According to Hindustan, the Delhi Police said that CCTV footage outside the Israeli embassy where the blast took place yesterday showed that two persons had landed in a cab near the embassy. However, it is not yet clear whether these individuals have any role in the explosion. The Delhi Police Special Cell contacted the concerned cab driver and inquired about the two persons. The police are preparing photographs of both the persons based on the information received from the cab driver.
Police are on high alert following a low-intensity explosion near the Israeli embassy in the capital's High Security Zone, and sources have confirmed that ammonium nitrate was used for the blast. It is being feared that the explosion may also be a trial of a 'big conspiracy'.
According to sources, "The forensic team has found evidence of the use of ammonium nitrate for the blast, causing a small pit at the site of the explosion." The sources also said that if RDX were used, the explosion effect would have been greater. Sources also said that the police also recovered a half-burnt pink scarf based on separate CCTV footage and an envelope addressed to the Israeli ambassador from the blast site.
The envelope found from the spot has been found only 12 yards from the blast site. Police sources have said that the letter was addressed to the Israeli ambassador. Police are investigating his fingerprints and envelope documents.
Explain that a low-intensity explosion occurred near the Israeli embassy last evening. However, no one was injured in the incident. Glasses of several cars parked in the vicinity were broken. The blast was not far from the victory check, where President V Nath Kovind, Prime Minister Narendra Modi and several VVIPs were present during the shibbing retreat ceremony.
Special Cell of Delhi Police is investigating the blast. According to police sources, in the initial investigation, it seems that some mischievous element has done this for the purpose of spreading panic. Security arrangements have been tightened in and around the area. In the wake of this explosion, an alert has also been issued at all airports, important establishments and government buildings.