30/01/2021
Farmers agitation in Delhi now become a political stage, opposition politicians joining
New Delhi: The farmers' movement again took a dramatic turn when farmers in Rashish Tikait's swamp of floods got emotional again and after midnight on Friday the number of farmers on the Ghazipur border rose again, thousands from western Uttar Pradesh and Haryana People reached the protest site.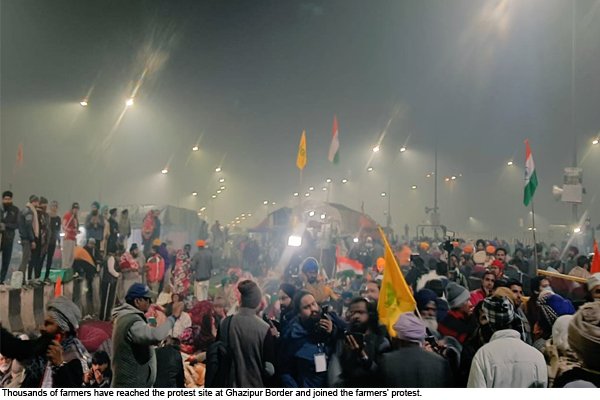 The tents, which started to erupt after 26 January, are now starting to reoccur. The number of farmers at the movement site has increased from eight to ten thousand as compared to the previous day. The process of reaching the Ghazipur border of farmers continues unabated.
"We are ready to face the administration, but not ready for the BJP people," BKU spokesman Rakesh Tikait immediately called an emergency meeting and Appealed to the supporters to reach Ghazipur in large numbers. A mahapanchayat was also organized in Muzaffarnagar, which was attended by a large number of farmers.
Let us tell you that the tents which started to be uprooted after the 26th January incident and the anchors were closed, started to reoccur on Friday. Suddenly, the entire scene at the venue of the movement changed. This mob has revived the farmers and leaders sitting on the dharna.
On the one hand, after the appeal of Rakesh Tikait, the process of reaching the Ghazipur border with a large number of water from the farmers started on Thursday night which continued till late Friday night. Overnight, farmers from western UP were seen reaching the Ghazipur border. Along with this, farmers from Haryana, Punjab and Uttarakhand are also reaching the movement site in large numbers. On Friday morning, under the normal days, the stage was punished, so the farmer leaders took out their anger against the government.
On the other hand, seeing the Farmers agitation resurfacing, several big leaders including Delhi Deputy Chief Minister Manish Sisodia, Alka Lamba from Congress and RLD Vice President Jayant Chaudhary have also reached the venue. If the number of farmers increased suddenly, the administration has also started the supply of water and electricity.