24/01/2021
Farmers Protest: deadlock over tractor rally persists, rally will be possible after Republic Day parade
New Delhi: Farmers are on the border of Delhi against 3 agriculture laws of the Central Government and their protest has been almost two months. So far, several rounds of negotiations have been held between the farmers and the government, but no consensus has been reached.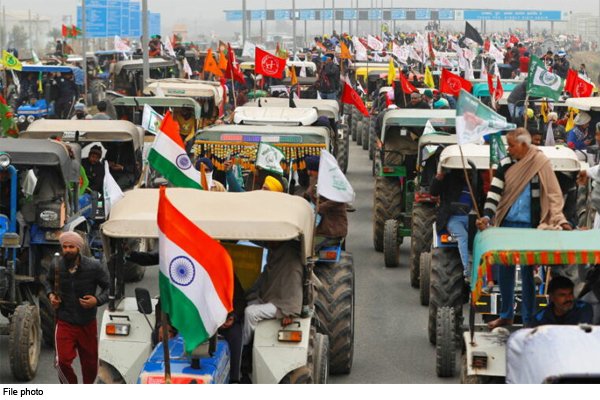 Farmers are adamant about demanding the withdrawal of these three laws. On the other hand, the central government wants to find a middle ground. Meanwhile, farmers have said to hold a tractor rally on 26 January. On one hand, farmers have said that they have got permission for a tractor rally in Delhi. On the other hand, Delhi Police is saying that Tractor Rally has not been approved yet. Therefore, there is confusion on this.
However, the Delhi Police has made it clear that the farmers' tractor rally will be held only after the Republic Day parade. The farmers want to take out their rally on the ring road, but the police have not allowed it. However, the police say that if farmers give all these things in writing, then they can be allowed to hold this rally. Regarding the tractor rally in Delhi, the police commissioner said, "The farmers have not given us any written route. Will tell only after the written route comes. "
Confusion persists
There has been a strange confusion between the farmer and the Delhi Police over taking out a tractor march in Delhi on Republic Day. Whereas farmer organizations say that they have got approval to take out a tractor rally on 26 January. On the other hand, Delhi Police has said that the talks are in the final stages and it has not been approved yet.
Tractor rally will go up to 100 km
Farmer leaders said that we will take out our rally from different 5 routes and this rally will take place peacefully. Farmer leader Darshan Pal said that the tractor parade would run about 100 km. The time that the parade takes will be given to us. The parade will be a historical one which the world will see.
In the midst of confusion, the farmers' organizations will meet on the Singhu border in Delhi today and discuss further strategies. According to sources, farmers will finalize the route of the tractor rally today and will give full information about this route to Delhi Police.