10/12/2021
Farmers Ends Protest: Farmers ends 15-month historic protest on Dec 9
New Delhi, November 9, 2021: Farmers in India announced an end to their historic protests on December 9, leaving their supporters in the country.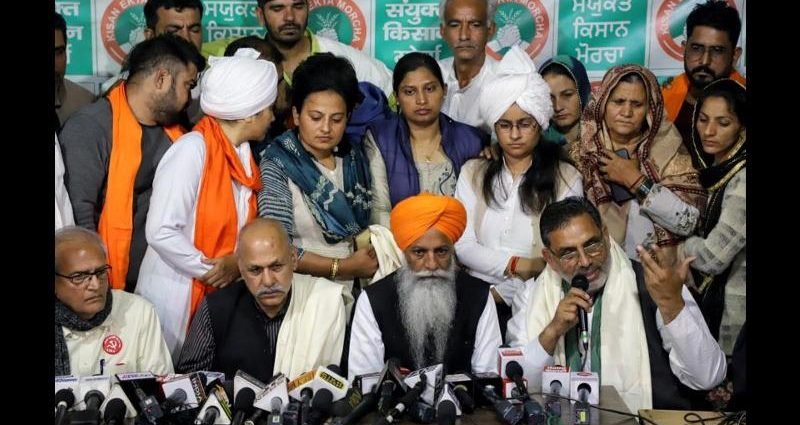 Samyukta Kisan Morcha, (SKM, United Farmers Front), which led the protests against three controversial agricultural laws and other issues, said at a press conference in New Delhi that the 15-month protest would end on December 11 and the farmers' house Will return from Delhi borders.
The farmers' victory is "an inspiration and tremendous encouragement to those of us who are on the path of satyagraha," says activist Pujari, who organized several protests, rallies and meetings on the farmer's issue in Varanasi, his base in Varanasi in north Indian state of Uttar Pradesh.
Farmers called off the protest a day after the government sent a written draft proposal to a five-member committee of the SKM in response to a November 21 letter to Prime Minister Narendra Modi.
The prime minister stunned the nation by announcing the repeal of agricultural laws on November 9, the birth anniversary of Sikhism's founder Guru Nanak, whose followers were from a prominent group of protesting farmers.
The farmers' letter stated that repeal of agricultural laws was one of their many concerns. Agricultural laws were later repealed in Parliament.
The federal government has also agreed to set up a committee to fix another demand of farmers – minimum support prices for their agricultural produce. The committee will include government officials, agriculture experts and SKM representatives.
The government has also agreed to withdraw all police cases against farmers in connection with violent clashes with security forces over the past several months.
The central government's letter said Haryana and Uttar Pradesh have given in-principle consent for compensation to farmers who lost their lives and Punjab has already made an announcement.
The government's proposal states that the electricity bill will also be presented only after consulting all the stakeholders, including the SKM, regarding the sections affected by the farmers.
Hundreds of thousands of farmers, mostly from northern Indian states, camped on the four borders of the national capital since November 26, 2020, demanding repeal of agricultural laws.