Farmers protesting at Ghazipur border in Delhi clear a section of service road below the flyover to allow movement of public vehicles. The service lane portion of the road runs from Ghaziabad to Delhi, on which the farmers had built a media center. Farmers will now sit on the upper part of the flyover.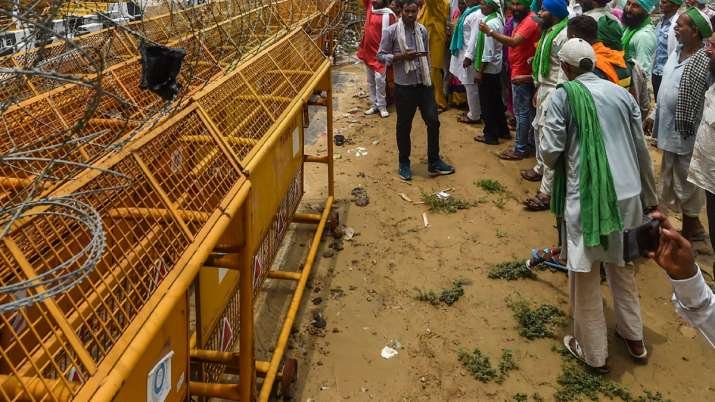 Earlier today, the Supreme Court said that farmers protesting at Delhi's borders against three agricultural laws have the right to agitate, but they cannot block roads indefinitely. A bench headed by Justice SK Kaul said it was not against the right to protest even if the legal challenge is pending, but eventually some solution has to be found.
"Farmers have the right to protest but they cannot keep the roads blocked indefinitely. You may have the right to agitate in any way but the roads should not be blocked like this. People have the right to take to the streets. Right but it cannot be blocked." In which Justice MM Sundaresh is included.
The top court asked the farmers' unions, involved as parties in the case, to respond on the issue within three weeks and fixed the matter for hearing on December 7. The top court was hearing a PIL filed by Noida resident Monika. Agarwal complained of delay in daily commute due to road jams due to the ongoing protest by the farmers.
Thousands of farmers from Punjab, Haryana and western Uttar Pradesh have been agitating since last November in three border points of Delhi – Singhu, Tikri and Ghazipur – against the three agricultural laws, claiming that the minimum support price system will be scrapped. them at the mercy of large corporations.
More than 10 rounds of talks with the government, which is introducing laws on major agricultural reforms, have failed to break the deadlock between the two sides. Although the Supreme Court has put all the three laws in cold storage, the farmers are adamant on their demand.
Earlier on January 26, a tractor parade in Delhi to highlight the demands of farmer unions to repeal three agricultural laws broke into chaos on the streets of the national capital, as thousands of protesters broke barriers. broke down, clashed with the police, overturned vehicles and hoisted a religious flag from the ramparts of the iconic Red Fort.