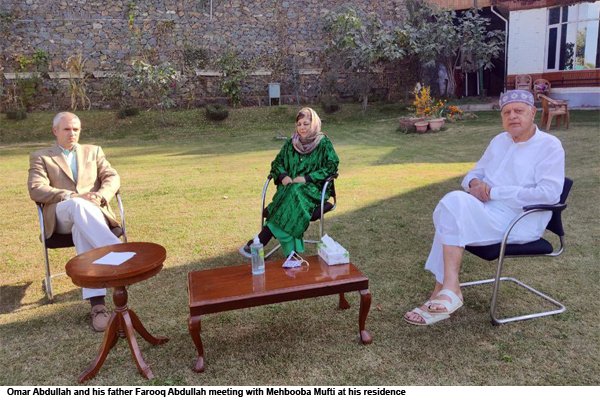 New Delhi: After the release of PDP President and former Chief Minister of Jammu and Kashmir Mehbooba Mufti from house arrest on Tuesday, after 14 months, National Conference President Farooq Abdullah has called a meeting on 'Guptkar Resolution' at his residence on Thursday. Mehbooba Mufti will also take part in this meeting. After all, what is the reason that Farooq Abdullah has to join hands with his arch enemy PDP in the state.
According to news agency, a meeting has been called to pursue future action on the 'Guptak Resolution' in relation to the special status of Jammu and Kashmir, which was canceled by the Center last year
Omar Abdullah tweeted, "My father and I called Mehbooba Mufti Sahiba this afternoon to inquire about her well-being after being released from custody. It has accepted Farooq SB's invitation to attend a meeting of the Guptar Declaration signatories tomorrow afternoon. "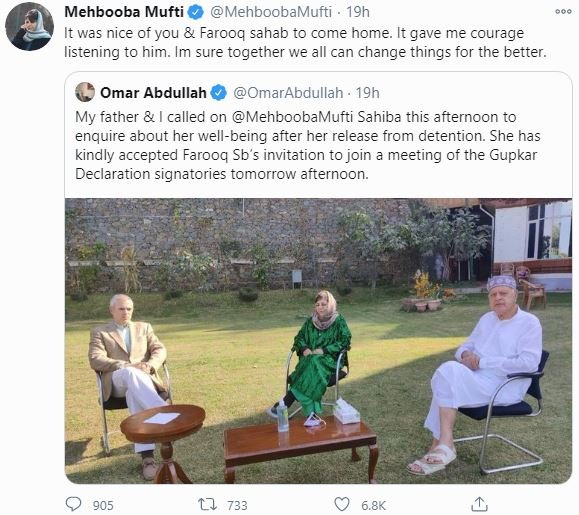 Responding to Omar Abdullah's tweet, former Chief Minister Mehbooba Mufti said, "It was great to see your (Omar) and Farooq Sahib coming home." It has given me courage. I believe that together we can change things for the better. "
The 'Guptkar Resolution' is a resolution issued during an all-party meeting at the residence of National Conference President Farooq Abdullah. It was released on August 4, 2019, just a day before the withdrawal of special state status from Jammu and Kashmir. The resolution said that the parties have unanimously decided that they will work together to preserve the identity, autonomy and special status of Jammu and Kashmir. The proposal includes the PDP, the People's Conference and some smaller parties in addition to the National Conference. Earlier, all the signatories met on 22 August and took a pledge to restore the status of special state of Jammu and Kashmir. The parties unanimously stated that they will unite and try to protect and defend the identity, autonomy and special status of Jammu and Kashmir against all attacks.
At the same time, the BJP has reacted sharply to the meeting for the secret announcement. The party said that three former chief ministers have come together to create trouble in the valley. BJP Chief Ravinder Raina has described the secret declaration as being anti-national and sponsored by Pakistan. He said that Abdullah and Mufti in their latest meeting decided to pursue the goals of the Guptkar declaration, which the BJP would never allow.
Also read in Hindi: फारूक अब्दुल्ला और महबूबा मुफ्ती का मिलन क्या गुल खिलायेगा!