18/01/2021
FIR against Ali Abbas Zafar, director of web series 'Tandava'
New Delhi: The web series 'Tandava' has started a large-scale protest across the country. An FIR has been lodged in Lucknow against the makers of Amazon Prime Video web-series Tandava for hurting religious sentiments. Let me tell you that director Ali Abbas Zafar's new web series 'Tandava' has allegations of insulting Hindu deities and inciting caste sentiments. There is a demand to ban this film on social media immediately.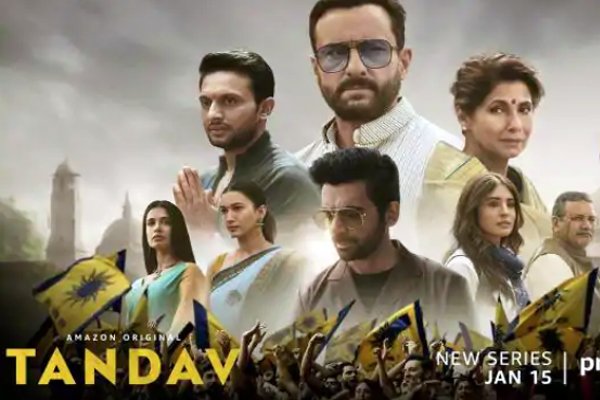 Hazratganj Kotwali has registered a case against the show's director Ali Abbas Zafar, original material head Aparna Purohit, producer Himanshu Krishna Mehra and writer Gaurav Solanki among others associated with the show.
On the other hand, several other organizations, including saints and saints in Prayagraj, along with Dharmanagri Ayodhya, Mathura and Kashi in Uttar Pradesh have also openly opposed the film, opposing it. In view of this, an FIR has been lodged by the Lucknow Police against those who made and released the web series 'Tandava' in Hazratganj Kotwali under serious sections.
The Ministry of Information and Broadcasting has allegedly issued a notice to OTT veteran Amazon Prime seeking feedback on complaints against its web series 'Tandava' starring Saif Ali Khan. The web series directed by Ali Abbas Zafar has been accused of inciting religious obsession. The series accuses him of defaming Hindu deities.
Sources in the ministry say that a notice has been issued to the makers of the web series. The Ministry has also taken serious cognizance of the complaints against Tandava.
Expressing similar concerns, BJP leader Manoj Kotak has written a letter to Union Minister Prakash Javadekar. In the letter, Manoj Kotak wrote, "It seems that the makers of Tandava have made fun of Hindu gods and insulted Hindu religious sentiments. I urge the Ministry of Information. And in the meantime the banning of Tandava was broadcast. "