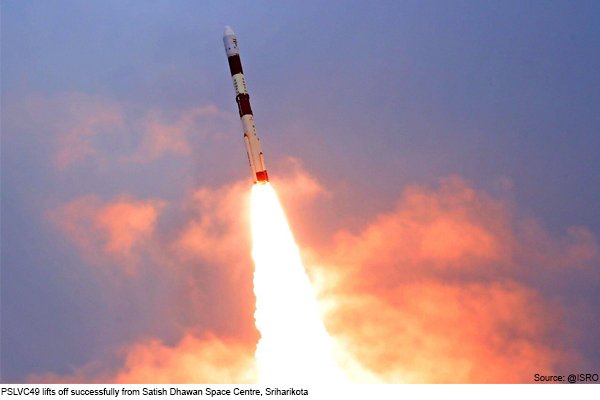 New Delhi: The Indian Space Research Organization (ISRO) on Saturday successfully launched the latest Earth Observation Satellite (EOS-01) and 9 international satellites from the PSLV-C49 launch vehicle from the Satish Dhawan Space Center in Sriharikota. The rocket injected all ten satellites into their intended orbit.
The rocket polar satellite launch vehicle (PSLV-C49 / EOS-01) flew from the Satish Dhawan Space Center at 3.12 pm at the end of a 26-hour countdown. The lift was originally scheduled for 3.02 am, but was delayed by 10 minutes due to debris on the route of the vehicle.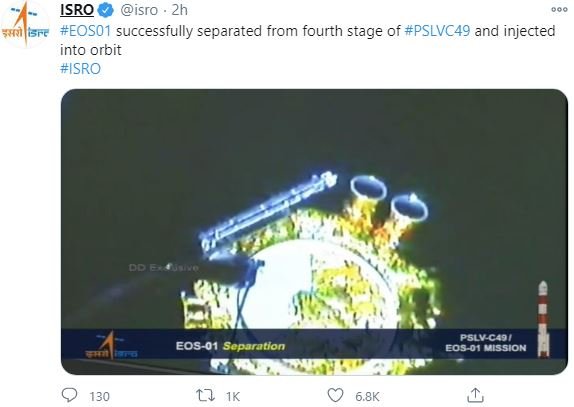 ISRO Chairman K Sivan said, "All 9 international satellites successfully separated and entered their intended orbit and the satellites began to operate."
The primary passenger of the 44.5 meter long PSLV-C49 was the Indian radar imaging satellite EOS-01 (formerly RISAT72BR2) with synthetic aperture radar (SAR) that can take photographs in all weather conditions. The satellite can take pictures day and night and will be useful for surveillance as well as civilian activities.
The nine foreign satellites to be piggybacked are Lithuania (1-technology demonstrator), Luxembourg (4 marine application satellites by Clos Space) and the US (4-Lemur multi-mission remote sensing satellite).
Suture said, "The mission was very special and unusual in the backdrop of the epidemic. Space activities cannot be done to work from home. Everyone needs to gather here for the launch. Also, hardware needs to be transported from different parts of the country. "
He said, "With limited staff, following all protocols, the mission was successfully launched." Sivan said the upcoming launch PSLV-C50, small satellite launch vehicle (SSLV) demonstration flight and heavyweight rocket. There will be a test that will carry the GISAT-1. . The launch of the GISAT-1 satellite was postponed to 5 March this year due to technical reasons, a day before the launch.
Also read in Hindi: लॉकडाउन के बाद पहला प्रक्षेपणः PSLV-C49 के साथ पृथ्वी अवलोकन उपग्रह लांच