14/01/2022
Happy Pongal 2022: Pongal is festival of thanks giving to the Sun God; Know here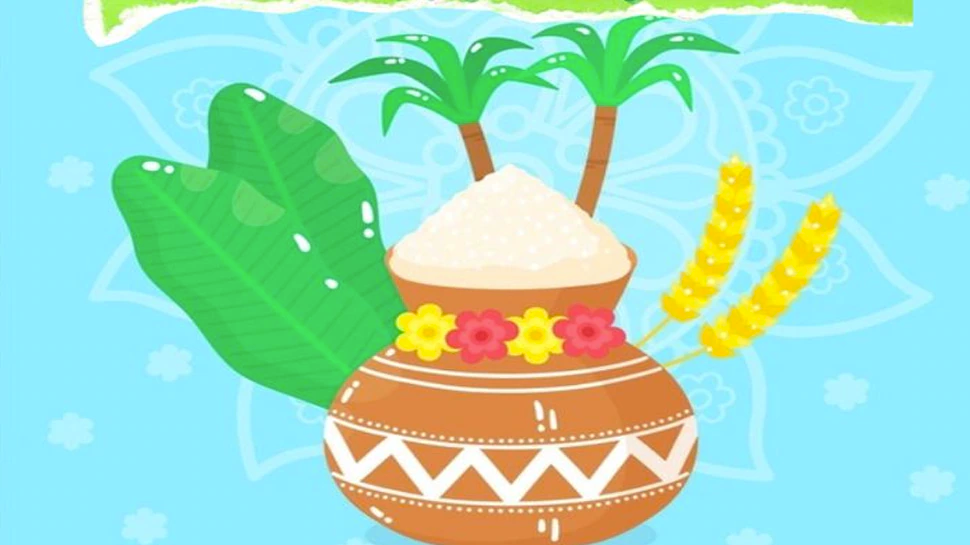 Pongal, also known as Thai Pongal, celebrated for four days, is one of the important festivals of Tamil Nadu. Not only in Tamil Nadu but all over India it is celebrated as Makar Sankranti or Sankranti, Uttarayan, Lullaby. Pongal is celebrated as a way of giving thanks to the Sun God. The month of January when Sun enters Capricorn, it is called Makar Sankranti. This festival also starts from the next day of Lohri festival.
During this festival people decorate their homes with mango leaves and flowers to welcome the new year and celebrate Pongal with pomp. On this day Rangoli is also made at the main entrance of the house and sweets and Pongal dishes are distributed along with rice boiled in milk and offered to the Sun before eating it.
Pongal, a four-day harvest festival celebrated in South India, especially Tamil Nadu, will be celebrated with great enthusiasm from January 14-17 this year. Celebrated every year in mid-January, it also marks the beginning of Uttarayan – the journey of the Sun towards the north and the end of the winter season. Pongal is celebrated around the same time as other harvest festivals of India such as Makar Sankranti, Lohri and Magh Bihu.
Significance and celebration of Pongal
The festivities begin with Bhogi Pongal on the first day as fresh crops of rice, sugarcane, turmeric are brought from the fields. Old and useless household items are discarded and burnt along with cow dung as part of the ritual of Bhogi Mantalu which also signifies new beginnings.
The second day of the festival, also known as Surya Pongal or Thai Pongal, is dedicated to the Sun God and is also the first day of the Tamil month of Thai. On this day, women wake up early in the morning to clean their houses and decorate the houses with beautiful kolam designs. On this day, freshly harvested rice is boiled in a pot with milk and jaggery until they overflow and spill. The ceremony captures the essence of the word Pongal which means to boil or overflow. This sweet is given to the Sun God before serving it to the family members on banana leaves.
The third day of Pongal is called Mattu Pongal where Lord Ganesha and Parvati are worshipped and offered Pongal. The word Mattu means bull and on this day the cattle are bathed, their horns painted and covered with shiny metal caps. They are also decorated with flower garlands and bells.
The fourth and last day of Pongal is called Kanum Pongal which is also considered an auspicious day for the beginning of new bonds and relationships.
Pongal History
Legends say that the Pongal festival dates back to the Sangam era (200BC-200AD) and finds mention in the Puranas.
According to a legend associated with Pongal, Lord Shiva had a bull named Basava, whom he sent to the earth to spread the message that humans should take oil massages and baths daily and eat once a month. Instead Basava asked humans to do the opposite – eat every day and take an oil bath once a month. Punished by Lord Shiva, Basava was sent to earth to help humans by plowing their fields and meeting their daily food requirements. In this way cattle started being associated with Pongal.
Happy Pongal Greetings to family
May the sweetness of Pongal bring you many more sweet and happy moments to share with your family and friends. Happy Pongal to you.
Pongal signifies joy and gaiety and brings together everything that is best. Happy Pongal to my lovely family.
Wishing you a Happy Pongal. Hope this Thai Pongal brings happiness in our lives.
May this festival be one that brings good luck and prosperity and hope it is blissful, and fills your days ahead with happiness. Have a wonderful Pongal.
I pray that this festival is the beginning of your bright days. Full of happiness, good luck and prosperity. Happy Pongal!
Let's meet, greet and eat together with this auspicious ornament and beautiful kolam. wishing you a very happy pongal
May this Pongal bring everlasting happiness and peace to all in the family, Happy Pongal!
May the warmth of the holy festival of Pongal fill your home with happiness. Have a wonderful Pongal.
Sending you warm wishes on the auspicious occasion of Pongal, have lots of fun and enjoy your every moment. Happy Pongal
May this harvest festival take away all your worries and fears from your life and fill your heart with calm and healthy thoughts. Happy Pongal
Happy Pongal Quotes
"Parvati shower her blessings, Lord Ganesha bless her, May all crops get more yield and our cattle always help us in the field. Happy Pongal"
"As you joyfully celebrate the festival of Pongal and welcome the harvest season, this greeting is being sent your way, wishing you everything that the occasion has to bring. Have a Happy Pongal"
"Pongal is a symbol of joy and gaiety and brings along whatever is best. May the festival of the harvest season bring with it everything that is best for you and everything that you deserve. Have a memorable Pongal"
"May the sun bring rays of joy and happiness to you and your loved ones. Wishing you and your loved ones a very Happy Pongal."
"As the Sun begins its journey north, it brings alive all the joyous moments of this year. Wishing you and your family a very Happy Pongal."
"May the sweetness of milk and sugarcane fill your life with happiness and prosperity. Wishing you a very Happy Pongal."
"May this harvest festival fill your life with joy and prosperity. Happy Pongal to you and your family."
"On this beautiful day, I wish you to be able to receive the gift of God forever and get every little thing that you have wished for in life. I wish you a prosperous and happy Pongal."
"Pongal signifies happiness and brings positivity. May this festival of harvest season be one that brings with it all that is best and everything that you deserve. Wishing you and your family a memorable Pongal."
"May this year showers of happiness in your life, may good fortune enter your home and may success touch your feet. I wish you and your family a very Happy Pongal."