17/02/2021
Hardeep Puri justifies the increase in airfare, says crude oil prices have escalated
New Delhi: The government has increased the minimum and maximum price band on domestic flight prices. According to a report, the government has increased the minimum price band by 10 percent and the maximum price band by 30 percent.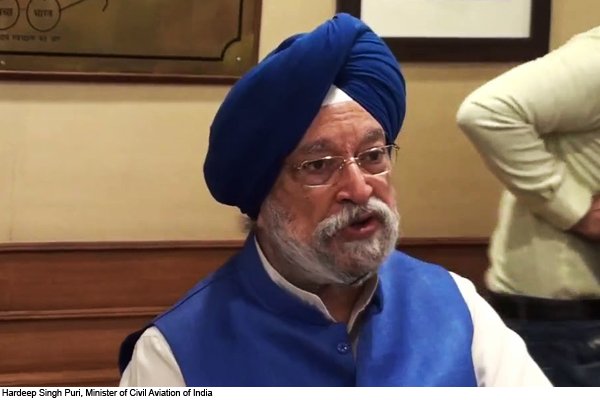 Price capping was imposed on domestic flight operators to maintain ticket prices due to limited flights. Price capping was imposed on 25 May, when domestic flights were re-calibrated.
In a recent tweet, Puri explained the reason behind the price hike. Since May 2020, the price of crude oil has doubled to $ 60 per barrel. As a result, aviation turbine fuel has increased 300 percent to Rs 51,000 per kiloliter. Puri said, "In comparison, the fare level has gone up by 10-30 per cent." Due to excess supply, most of the travel is on the lower band. While the occupancy level is far from their high, airlines will not charge the upper limit.
He further stated that fares have remained unchanged for over a decade. For example, the fare for the lower band of Delhi-Mumbai has increased from Rs 3,500 to Rs 3,900 – equivalent to the second class AC fare of the railways. In 2010, Delhi-Mumbai airfare was in the range of Rs 4,000.
On 21 May, aviation regulator Cb. Released the government-fixed fare for these bands – lower and upper limits of Rs 2,000 and Rs 6,000 for domestic flights less than 40 minutes, Rs 2,500 and Rs 7,500 for 40-60 minutes, Rs 60-90 minutes 3,000 and Rs 9,000, 90-120 minutes Rs 3,500 and Rs 10,000, Rs 120-150 minutes, Rs 4,500 and Rs 13,000, 150-180 minutes Rs 5,500 and Rs 15,700 and 180- Rs, 210 minutes Rs 6,500 and Rs 18,600.
If the report is to be believed, the upper price band, now capped at Rs 18,600, will rise 30 per cent to Rs 24,200 on a 180-210 minute flight, an increase of Rs 5,600. On the shortest route, for the lowest price band, there will be a 10 percent increase in price, which means an increase of Rs 200.
Union Minister Hardeep Singh Puri said on Wednesday that the capping of the air service was an 'extraordinary measure', stressing that the price band is expected to go away once the flight services reach the pre-Covid-19 level. Responding to questions in the Rajya Sabha, the minister said that the civil aviation sector was completely closed on 23 March 2020, and reopened on 25 May, giving space to the SOP in a slow and calibrated manner, Provision for uninterrupted contactless travel and a large number of other measures were taken.
The Civil Aviation Minister said, "Our effort is always to be a little ahead of actual and potential traffic." The Civil Aviation Minister said that the airplane is not operating up to 80 percent. He said it was designed to ensure that airlines did not charge additional costs in the event of limited availability. "That's not our objective – it can't happen even in an open, poor market situation – the rent band is a permanent feature. Therefore, it is our expectation when flights to pre-Covid levels open this summer. The minister said, we will not need the price band.
(With agency inputs)