05/04/2021
Harry Potter is passé; here comes Raj with Snowy to entertain kids in a new world
BOOK REVIEW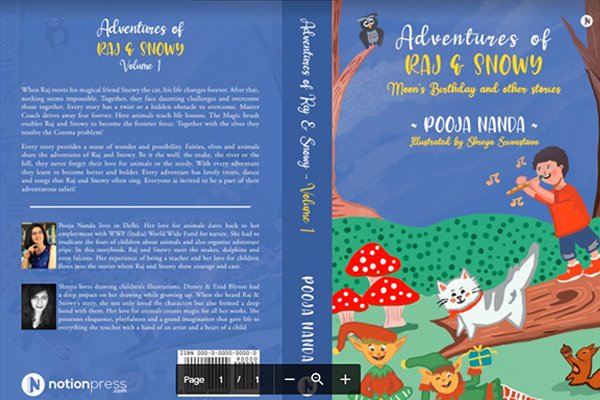 The year 2020 brought in its wake unprecedented changes in the lives of an average individual. While adults are slowly coming to terms with the vagaries of day-to-day life passed off as new normal in the changed scenario, kids, too, are finding ways to get over the boredom caused by self-imposed confinement. Fed up of online classes and internet-enabled shows on mobile phones, they are switching to book reading.
This positive trend among children is a welcome development for Indian authors, especially those writing for children on different genres, both fiction and nonfiction. According to Nielsen's report on the Impact of COVID-19 on the India book consumer, reading time has increased from nine hours a week to 16 hours a week.
Capitalising on the demand of the situation and prolonged free time for reading, the authors are coming out with quite entertaining and creative books for children. Pooja Nanda's book 'Adventures of Raj and Snowy', is one of them. Published by Notion Press, the book offers an entertaining reading for kids of all age groups.
Through the book, Pooja takes her readers on a lively and magical ride of a young boy and his magical cat, Snowy, through Raj's childhood. While Snowy is not young, he helps Raj traverse many a dilemma, decisions, and challenges one faces as a child. Their companionship is enviable and fun to read about, making every child want to have a friend like Snowy.
Pooja addresses the problematic themes of self-doubt, rivalry and competition, loneliness, and longing for companionship with ease and builds an easy framework of ethical and social guides which can well be used for child education. Throughout the book, she has built on the philosophy of 'giving' through Raj's interaction and caring for Snowy – caring for someone other than yourself, being authentic, being open to receiving – things that can make a person's life happy and fulfilling. It's this philosophy that makes this book more than a fairy tale.
The Delhi-based author's love for animals dates back to her association with World Wide Fund WWF (India) for nature. She helped children overcome the fear of animals by organising adventure trips.
In this storybook, Raj and Snowy meet snakes, dolphins, and even falcons. Her experience of being a teacher and her love for children flows into the stories where she showcases the courage and care of her characters.
The books are appealing that children won't give up reading them midway. This will help them cope with COVID-19 induced anxieties and enhance their creative thinking.
Children have a natural inclination to fiction as nonfiction books for them were like extensions of school textbooks. This is the reason the author opted for fiction which which are both imaginative and creative at the same time based in a world of magic. Her writing style is very entertaining, complete with narratives and dramatisation.