19/12/2021
Here are Indian-origin CEOs who are leading the world's biggest companies
Tesla Motors CEO Elon Musk tweeted a few weeks ago, "USA benefits greatly from Indian talent."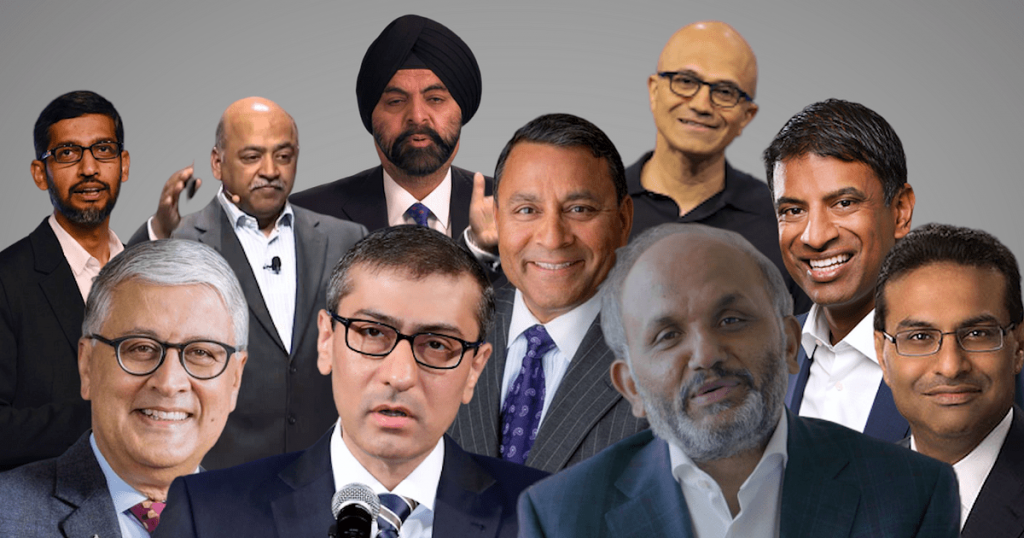 Time has come for India to take over the world and rule the global stage. Recently, a group of Indian-origin individuals took a top-ranking spot among the world's largest (and most prestigious) firms – Twitter CEO Parag Agarwal and Channel CEO Leena Nair being the most recent. The brightest minds of the country have surpassed what we know as 'basic intelligence', creating history in superpower countries across the world.
While many of them do not live in India, they certainly represent the people, breaking the age-old stereotypes about our land as just one of the snake charmers. Below, we have listed some of the Indian-origin CEOs who deserve a shout-out.
Parag Agarwal, Twitter CEO
Just a few weeks ago, Twitter co-founder Jack Dorsey resigned from his post as chief executive officer, Chief Technology Officer, Parag Agarwal, a 37-year-old Indian-origin man who graduated. Indian Institute of Technology in 2005. Born in 1984, Parag completed his bachelor's degree in computer science and engineering from IIT, Bombay and a doctorate in computer science from Stanford University. Prior to joining Twitter, Parag Agarwal was largely involved in data management at Microsoft Research, Yahoo! Research, and AT&T Labs.
Leena Nair, Channel CEO
Just two days ago, Lena Naird stepped down from the position of Chief Human Resources Officer at Unilever to pursue a career at French luxury fashion house, Chanel. She joined Hindustan Unilever Limited in 1992 after receiving a gold medal from the Xavier School of Management in Jamshedpur, Jharkhand. He has won several awards during his career, including 'Global Indian of the Year'; award, the 'Role Model of the Year' award, and has also been featured in Fortune India's list of Most Powerful Women 2021.
Sundar Pichai, Google CEO
Pichai Sundararajan, Indian-American business executive, is the CEO of Alphabet Inc. and its subsidiary Google. Born in Madras, India, he earned a degree in metallurgical engineering from IIT Kharagpur. He then moved to the United States where he earned a master's degree in materials science and engineering from Stanford University. He later completed his MBA from the Wharton School of the University of Pennsylvania.
Arvind Krishna, IBM Group CEO
Another Indian-American business executive, Arvind Krishna is the President and CEO of International Business Machines Corporation (IBM). He began his career at IBM in 1990 and was the principal architect of Red Hat, the largest acquisition in the company's history. Arvind was born in Andhra Pradesh to a Telugu speaking family and earned a BTech degree in Electrical Engineering from the Indian Institute of Technology, Kanpur in 1985. He later moved to the United States to pursue his PhD in the University of Electrical Engineering. Illinois in 1991 in Urbana-Champaign.
Satya Nadella, Microsoft CEO
The Telangana-born Indian-American executive is the executive chairman and CEO of Microsoft. Prior to becoming CEO, he was executive vice president of Microsoft's Cloud and Enterprise group, responsible for building and running the company's computing platform. He graduated in Electrical Engineering from Manipal Institute of Technology in 1988. After that he did M.S. To get the US traveled to. in Computer Science at the University of Wisconsin-Milwaukee and an MBA from the University of Chicago Booth School of Business.
Shantanu Narayan, Adobe Inc. CEO
Shantanu Narayan has been the Chairman, President and CEO of Adobe Inc since December 2007. He grew up in Hyderabad, India, and holds a bachelor's degree in Electronics and Communication Engineering from the University College of Engineering, Osmania University. Later, he moved to the United States to pursue a master's degree in computer science from Bowling Green State University in Ohio and an MBA from Haas School of Business, University of California, Berkeley.
Indra Nooyi, former PepsiCo Inc. CEO
While she is no longer the head of the multinational food, snack and beverage corporation, Indra held her position as PepsiCo's CEO for 12 years before stepping down in 2018. He recently published a memoir, "My Life in Full," and also served on the board. of Amazon and the International Cricket Council. Phillips has proposed that he join their board in May 2021. Indra Nooyi was born in Madras, Tamil Nadu, and studied at the Indian Institute of Management, Calcutta and Yale School of Management, USA.
Ajaypal Singh Banga, former Mastercard CEO
Ajaypal Singh Banga was the President and CEO of Mastercard from July 2010 to December 31, 2020 – he now serves as the Executive Chairman of the company. He is also a member of the Council on Foreign Relations and the International Business Council of the World Economic Forum. Born in Pune, Maharashtra, he graduated with a Bachelor of Arts (Hons) degree in Economics from St. Stephen's College, University of Delhi, followed by a PGP in Management from the Indian Institute of Management in Ahmedabad.
Nikesh Arora, CEO of Palo Alto Networks
Nikesh Arora is the President and CEO of Palo Alto Networks, an American multinational cyber security company. Prior to this, he was a senior executive at Google and also served as the Chairman of SoftBank Group from 2014 to 2016. He graduated with an electrical engineering degree from the Indian Institute of Technology, BHU in Varanasi, and an MBA from Northeast University.
Rajeev Suri, former Nokia Inc. CEO
The Singaporean business executive is now the CEO of Inmarsat, a British satellite telecommunications company. He was the CEO of Nokia Corporation till 31 July 2021. Rajiv was born in New Delhi, India and raised in Kuwait. He holds a bachelor's degree in Engineering-Electronics and Communication from Manipal Institute of Technology.
Jayshree Ullal, Arista Networks CEO
Born in London, raised in Delhi, American billionaire businessman is the President and CEO of Arista Networks, a cloud networking company. He did B.S. Graduated with in Engineering (Electrical) from San Francisco State University and a master's degree in Engineering Management from Santa Clara University.
Sanjay Mehrotra, CEO of Micron Technology
The Indian American business executive is the CEO of Micron Technology and was a co-founder of SanDisk, where he served as President and CEO until its acquisition by Western Digital in 2016. He was born in Kanpur, India, and holds bachelor's and master's degrees. degree in Electrical Engineering and Computer Science from the University of California, Berkeley. He graduated from the Stanford University Graduate School of Business Executive Education Program in 2009.
Recently joined CEO's club
Anand Easwaran becomes CEO of global IT firm Veem
Global IT company Veem Software has appointed Anand Easwaran as its new CEO and a member of the company's board of directors. Easwaran holds a bachelor's degree in computer engineering from the University of Mumbai. He attended the University of Missouri-Columbia for a Masters in Computer Science and Engineering. Prior to becoming the CEO of Veeam, Easwaran was the President and COO of RingCentral. Prior to this, he was managing enterprise commercial and public sector businesses globally with Microsoft. He has also led the Microsoft Services, Industry & Digital, Customer Care and Customer Success teams.
QuantumSpace's Indian CEO Jagdeep Singh bags $2.3 Bn net
It's a story of yet another Indian origin CEO who is making a mark globally. While the likes of Satya Nadella or a Parag Agarwal or Sundar Pichai.. are celebrated for ascending to the corner office of global tech behemoths, an Indian CEO is making the news again – and this time for his salary package.
Indian-origin Jagdeep Singh is the CEO of the U.S. based QuantumScape, a solid-state battery startup which went public last year. And believe it or not, Singh has been awarded a staggering $2.3 billion worth of stock options, giving him an Elon Musk-like pay package.