12/12/2021
Here's how a common politician Sharad Pawar is turned into a cunning player by the media
NCP supremo Sharad Pawar is considered one of the smartest politicians in the country. Even in times of crisis, he does not lose his cool, which was evident when the MVA government was formed in Maharashtra. While the BJP is not ready to lose power from the Center anytime soon, Sharad Pawar is taking steps to somehow become the prime minister in 2024. He is trying to unite the opposition leaders against the BJP. However, looking at Pawar's political journey, it can be said that he is an unknown politician and the media has projected him as a cunning player.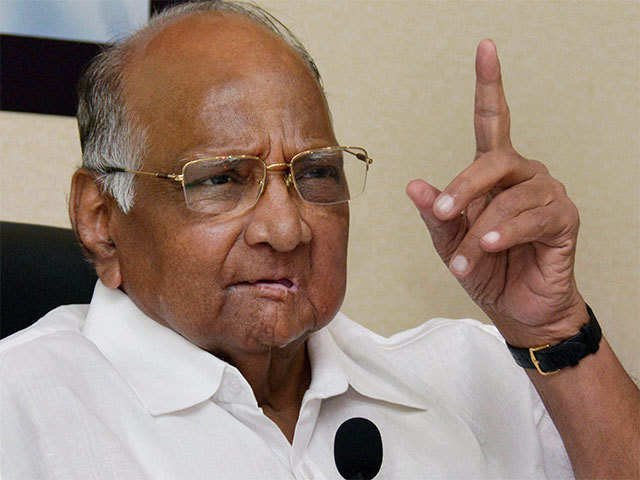 Pawar – a failed backend operator:
Despite being a great communicator, Sharad Pawar has lost almost every battle in his political history as politicians have always been bad backend operators. While politicians like PV Narasimha Rao and Amit Shah are some of the tallest leaders by political acumen and are considered to be spontaneous political operators, Pawar was a complete failure despite being a popular leader among the Marathis.
Pawar's failed attempt to become PM:
Due to his misfortune on that front, Pawar has come to be known as "India's best Prime Minister". On three occasions- 1991, 1999 and 2019, Pawar had set the target of becoming the prime minister. He was disappointed in every way. In 1991, the names of three prime ministerial candidates were in the news. At that time Sharad Pawar was in Congress and he had not formed NCP. By then, Sharad Pawar had emerged as a regional stalwart and a decent national leader who knew more politics than everyone else in the Congress.
Sharad considers Madhava Rao and Arjun as potential threats to his claim to the post, while he completely underestimates PV Narasimha Rao, considering him a walkover. However, due to his political skills and strategies, PV Narasimha Rao became the Prime Minister.
In 1999, after another unsuccessful attempt to become the Prime Minister, he was convinced that he could not move forward in the monopolistic party of the Gandhi family, and therefore, broke away and founded the NCP.
However, later that year, the NCP joined hands with Congress to form a coalition government in Maharashtra. Also, after the 2004 national parliamentary elections, the NCP joined the Congress-led United Progressive Alliance (UPA) as an alliance partner. Well, despite being humiliated by Pawar, his alliance with Congress clearly shows that Pawar is an ignorant politician.
Another defeat for Pawar- Maharashtra Politics:
As far as the political history of NCP is concerned, the party founded by Sharad Pawar in 1999 has formed only one government in Maharashtra on its own. In the first election, it contested there, winning 58 of the 223 seats it contested. Later, the party aligned itself with the Congress Party (which won 75 seats) to form a coalition government in the state. The alliance continued and the NCP became part of the Congress-led United Progressive Alliance (UPA) coalition government in 2004 (which elected Manmohan Singh as prime minister and not him).
Even now the NCP is running a coalition government with Shiv Sena in Maharashtra and has failed to control the BMC even once.
Thus, it is clear that NCP supremo Sharad Pawar is only a name propagated by the media and there is no strong claim to support the fact that Pawar is a cunning politician.