07/01/2022
Here's how compared to 7 months ago, daily cases increased from 10,000 to more than 1 lakh in just 8 days
New Delhi: Eight days after the daily cases of Covid-19 in India crossed the 10,000-mark on Thursday, eight days after Omicron entered the country, the virus is spreading at an unprecedented pace.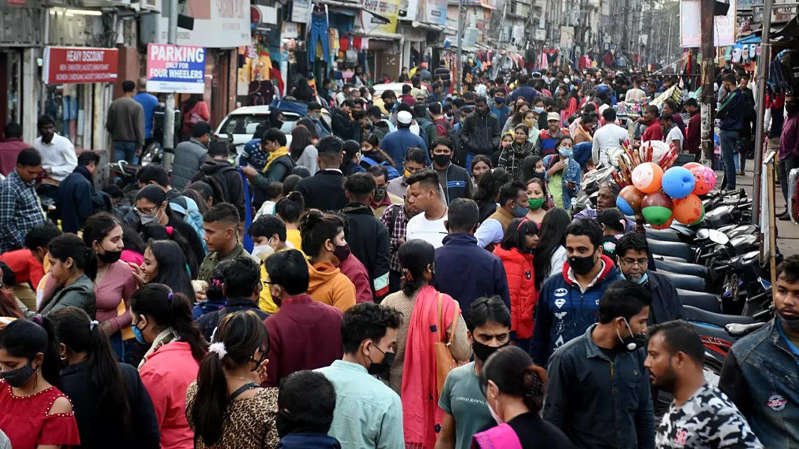 India last recorded 1 lakh new infections in a day on June 6, 2021 – 214 days ago, when the second pandemic wave was brewing. According to the Covid database, the number of fresh cases reached nearly 1,17,000 (116,964, with one state report) on Thursday. 90,889 new cases were reported in India on Wednesday.
A similar increase in daily Covid counts – from 10,000 to 1 lakh – took 103 days (when cases peaked at 98,795) in India during the first wave of the pandemic and 47 days during the second wave. Therefore, the current rate of growth appears to be five times faster than the start of the second wave, which peaked at over 4 lakh daily cases.
Cases have so far increased at a sharp daily rate of 35% in the 10 days since the surge began on December 28. Thursday's numbers were up about 29% from Wednesday's numbers. After increasing the testing after the weekend, the cases saw an increase of 56.3% and 56.6% respectively in the last two days.
On the positive side, there has been a slight increase in the death toll in the last few days. On Thursday, 97 deaths were recorded (304 taking into account chronic deaths), remaining below the 100 mark for the second consecutive day after rising to 112 on Tuesday.
The figures for the last three days showed a marginal increase in the death rate, especially from states like Delhi where cases started rising, gradually from early December. The toll is also increasing in Bengal, in which 19 people died on Thursday, which is the highest in the country. Deaths were also reported in Punjab (five on Thursday), Jharkhand (four) and Madhya Pradesh (two).
Active cases in India crossed 3.5 lakh on Thursday amid a slew of new infections, nearly 86,000 in a day. Active cases had come down to less than 75,000 on December 21. On December 31, this number had crossed 1 lakh and four days later it crossed 2 lakh.
Meanwhile, Maharashtra is leading in the country by a long margin in detecting fresh cases. The state on Thursday recorded 36,265 new infections, up 36.6% in a day, with Mumbai reporting 19,780 cases, its highest count since the start of the pandemic.
Bengal reported 15,421 fresh cases, a marginal increase from 14,022 on the previous day, with Kolkata accounting for 6,569. Delhi is behind with 15,097 (up from 10,665 on Wednesday) and six deaths. The daily number of cases crossed 5,000 in Tamil Nadu (up from 6,983, 4,862) and Karnataka (up from 5,031, 4,246).
Cases in Gujarat rose to 4,213 (up from 3,350), while Kerala posted 4,649, slightly lower than Wednesday's total of 4,801. Infections were rising rapidly in Uttar Pradesh, which stood at 3,121 (up 2,038 the previous day), Rajasthan (up 2,400, up 1,615), Haryana (up 2,678, up 2,176) and Bihar (up 2,379, up 1,659). Had been. Jharkhand, which is also spreading rapidly, recorded 3,704 cases, a marginal increase from 3,553 the previous day.