01/11/2021
Here's how the Nageshwarnath temple built by King Kush, the son of Lord Rama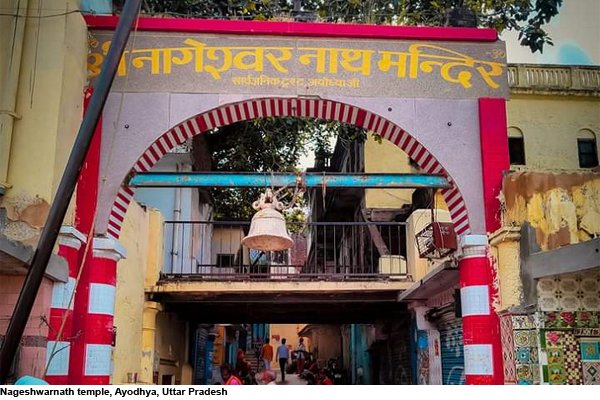 The ancient Nageshwarnath temple established on the banks of the virtuous Salila Saryu river also signifies that the place where the temple of Lord Nageshwarnath is situated is the same ancient Ayodhya. This mythical city was settled by King Vikramaditya and this ancient temple was also renovated by him. Even today in religious beliefs, Baba Nageshwarnath is known as the identity of Ayodhya and is the center of faith and reverence for the devotees coming from every corner of the country.
Importance of worshiping Lord Nageshwarnath
Due to this ancient temple of Lord Shiva being established in Ayodhya, its importance is even more and by worshiping and worshiping Lord Shiva in this ancient temple in the month of Sawan, the sufferings of birth after birth are erased and man attains virtue. Therefore, if you also want to earn merit by worshiping Lord Shiva in this holy month of Sawan, then without delay, reach Ayodhya, the city of Ram and worship Lord Nageshwarnath established on the banks of the Sarayu coast.
The temple was established by King Kush, the son of Lord Rama.
According to Shiva Purana, once while sailing to Bihar, a bracelet from the hand of King Kush, son of Lord Rama, fell into the holy Sarayu, which was found by the daughter of Kumud Nag, who resided in the Sarayu. There was a fierce battle between King Kush and Nag Kumud to get this bracelet back. When the serpent felt that he would be defeated here, he meditated on Lord Shiva. God Himself appeared and stopped this war. Along with giving the bracelet, Kumud requested Lord Shiva to get his daughter Kumudani married to Kush. This proposal was accepted by Maharaj Kush and requested Lord Shiva to reside here forever. Lord Shiva accepted his request. Lord Shiva appeared on the meditation of the serpents, due to which it is known as Nageshwar Nath. After this King Kush established the Nageshwar Nath temple in Ayodhya, which is still the center of faith of Shiva devotees living all over the country.
The British also accepted the Nageshwarnath form of Lord Shiva.
The glory of the ancient Nageshwarnath Mahadev, located in Ayodhya's Padi Khetra, is unparalleled. His glory has been narrated not only by Hindu devotees but also by the British. English scholar Vincentsmith wrote that even after facing 27 attacks, this temple has maintained its integrity. Hamilton has written that there is no other divine and holy place like this in the whole world.