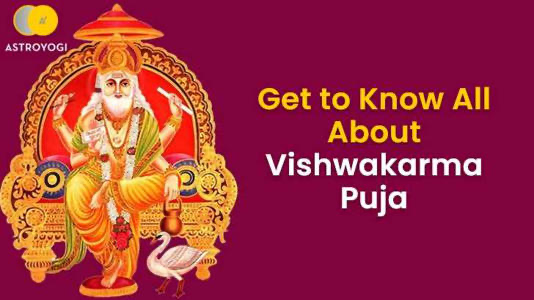 Vishwakarma Puja, Vishwakarma Day, or Vishwakarma Jayanti, is dedicated to the divine Lord Vishwakarma. This holy day holds great significance for the devotees who celebrate this day with great reverence. By reading here you can know about Vishwakarma Puja and the auspicious date and time.
Vishwakarma Puja is dedicated to Lord Vishwakarma, who is known as the divine architect or designer of the world. The auspicious occasion of Vishwakarma Puja is celebrated every year as the birth anniversary of Lord Vishwakarma. Vishwakarma Puja is the most auspicious day for craftsmen and artisans across the country.
Vishwakarma Puja takes place on the day of Kanya Sankranti or Kanya Sankranti, and according to the Gregorian calendar, it usually falls on 16 or 17 September. In India, it is a restricted holiday. Vishwakarma Puja 2022 is falling on 17 September 2022 (Saturday). Vishwakarma Puja is calculated according to the Bisudha principle. This occasion is celebrated in Rajasthan, Haryana and Punjab. In many eastern states like West Bengal, Tripura, Assam, Jharkhand and Orissa, it is celebrated as 'Vishwakarma Puja'. Vishwakarma Puja is celebrated on the last or last day of the Bengali month, Bhadra, also commonly known as Kanya Sankranti. Or Bhadra Sankranti. This festival is celebrated after Diwali in Bihar and some other northern states. In Kerala Vishwakarma Puja is celebrated on the day of Rishi Panchami.
Vishwakarma Puja Date – 17 September 2022 (Saturday)
Time of Vishwakarma Puja Sankranti – 07:36 AM (IST)
Kanya Sankranti – 17 September 2022 (Saturday)
Importance of Vishwakarma Puja
The birth anniversary of Lord Vishwakarma is considered an extremely sacred occasion with immense religious significance for the followers of Hinduism. It is believed by the devotees that Lord Vishwakarma is the child of Lord Brahma. Lord Vishwakarma is known to have designed and built palaces and even divine weapons for the gods. The enormity of his works and works are mentioned in the Vasthapya Veda, which is the science of architecture and mechanics, and in the Rigveda.
Devotees consider Vishwakarma Puja or Vishwakarma Jayanti to be an important day that honors the divine Lord Vishwakarma. This day holds great significance for the labor community. The day is revered not only by the architectural and engineering communities but also by craftsmen, artisans, welders, carpenters, mechanics, factory workers, industrial workers and others. On this day, they pray to Lord Vishwakarma for safe working conditions, safe and smooth operation of machines, better future and success in their respective fields. The community of workers and craftsmen worship their tools and refrain from using them on this occasion. So this day becomes a holiday for them.
On this occasion worship and many other rituals are performed at temples and workplaces across the country. Many workplaces organize free lunches for workers and artisans. Apart from India, this special festival is also celebrated in Nepal. This festival is celebrated most importantly in industrial areas and factories.
Special pujas and prayers are performed in shops, offices, factories and workplaces on Vishwakarma Puja. On this day the place of worship is beautifully decorated with flowers depicting the celebration and celebration in the air.
On this occasion, devotees worship Lord Vishwakarma and his 'vahan' or vehicle, the elephant. Machines installed in offices, factories and industries are also worshiped on this day. In addition, workers and craftsmen worship their tools on this day.
Special idols, idols or pictures of Lord Vishwakarma are installed in factories and workplaces for worship. Workers and artisans should gather at a common place to perform the puja.
Devotees should take bath in the morning and purify themselves. After that they should clean the machines, tools and equipment of daily use.
Once done, perform all the rituals associated with the festival. You should keep the picture of Lord Vishnu with Lord Vishwakarma during Vishwakarma Puja. Offer kumkum (vermilion), akshat, gulal, flowers, fruits, sweets, turmeric, rice, betel nut, incense sticks, rakshasutra, curd etc. to the deities.
Lord Vishwakarma is known to be a divine architect and engineer of the gods. Performing Vishwakarma Puja with full faith can help the artist to please the deity and seek his blessings to lead a successful and prosperous life. It can ensure that a person will have a successful professional life. Devotees believe that by worshiping Lord Vishwakarma one's business can grow by leaps and bounds.