21/01/2021
'I am Tejashwi Yadav speaking, DM Sahab', former Bihar Deputy CM's phone call goes viral
Patna: The phone call of former Bihar Deputy CM and opposition leader Tejashwi Yadav with a top official in Patna has gone viral on social media. Tejashwi reached the protest site in Patna to offer his support to the protesting teachers.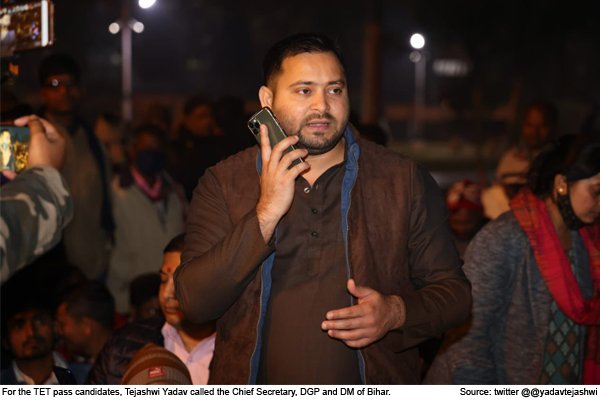 They were told that the protesters were refused permission to sit at their planned site. The former deputy CM spoke to the chief secretary, chief of police, and Patna district magistrate and assured them that the protest would be allowed.
WATCH: When @yadavtejashwi rung up DM of Patna in front of protesting aspiring teachers in Patna. 👇🏼 pic.twitter.com/QZEHECPCpK

— Prashant Kumar (@scribe_prashant) January 21, 2021
Tejashwi Yadav, surrounded by protesting teachers, is seen talking to Patna District Magistrate Chandrashekhar Singh in the video. He called the DM of Patna in front of hundreds of candidates and asked them to allow the movement and decide the venue of the movement. Please tell that on Tuesday these candidates were lathi-charged by the Patna administration and they were removed from the place of Gurdnibagh.
Tejashwi Yadav said on the phone, "These people are saying that they are not being allowed to sit on dharna. Do they have to keep asking for permission every day? They are lathi-charged, their food is thrown, they are banished. Now they are all shattered and some of them are with me in Eco Park. "Yadav said that the teachers only wanted to exercise their democratic right to protest.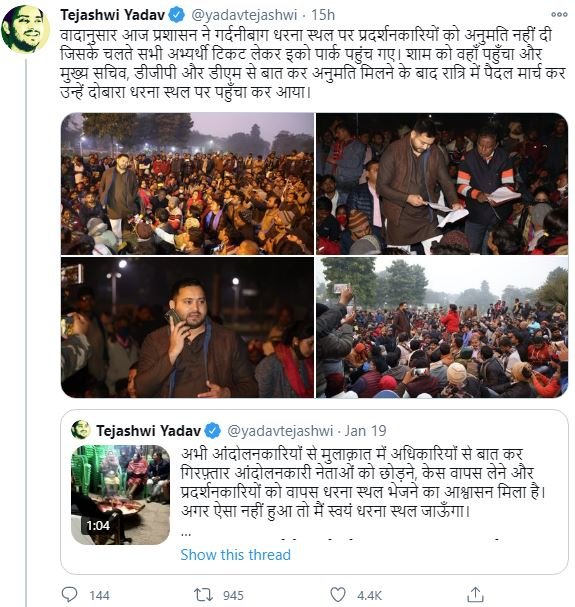 After the intervention of Tejashwi Yadav, the candidates were allowed to protest in Girdnibagh. Later, Tejashwi Yadav also led a 3 km long march with him. Tejashwi also tweeted about this. He wrote, "Accordingly today, the administration did not allow protesters at the Girdnibagh picket site, due to which all the candidates took tickets and reached the Eco Park. Arrived there in the evening and after getting permission after talking to the Chief Secretary, DGP and DM, marched on foot at night and brought them back to the dharna site