05/05/2021
In the third phase, more than 4 lakh people in the age group of 18 to 44 yrs got vaccinated
New Delhi: A generous and expeditious strategy of the third phase of Covid-19 vaccination has been implemented from May 1. To date, a total of 15.89 crore doses of the Covid-19 vaccine have been given in the country. The first dose of vaccine has been given to 4,06,339 people in the age group of 18 to 44 years in 12 states/union territories across the country. These include Chhattisgarh (1,025), Delhi (40,028), Gujarat (1,08,191), Haryana (55,565), Jammu and Kashmir (5,587), Karnataka (2,353), Maharashtra (73,714), Odisha (6,802), Punjab (635), Rajasthan (76,151), Tamil Nadu (2,744) and Uttar Pradesh (33,544).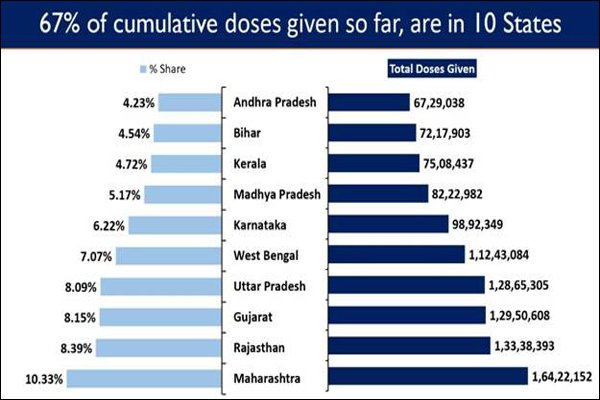 According to the provisional report received till 7 am today, a total of 15,89,32,921 doses of Covid vaccine have been given through 23,35,822 sessions. The total number of immunization beneficiaries includes 94,48,289 HCWs who have undergone the first dose of the vaccine and 62,97,900 HCWs who have taken the second dose of the vaccine. In addition, there are 1,35,05,877 FLWs taking the first dose, 72,66,380 FLWs taking the second dose, and 4,06,339 people taking the first dose in the age group of 18 to 44 years. Along with this, 5,30,50,669 beneficiaries taking the first dose between 45 and 60 years of age and 41,42,786 beneficiaries taking the second dose, as well as 5,28,16,238 first dose and 1,19,98,443 second dose Beneficiaries above 60 years of age are also included.
10 states account for 66.94 percent of the total doses given in the country so far.
A dose of 17,08,390 vaccines of Covid-19 was given on the 108th day of vaccination campaign (May 3, 2021). Out of this, 8,38,343 beneficiaries were given the first dose through 12,739 sessions and the second dose of vaccine was given to 8,70,047 beneficiaries.
Till date, a total of 1,66,13,292 people have been cured in India. The national recovery rate is 81.91 percent. During the last 24 hours, 3,20,289 people recovered from Covid-19.
10 states account for 73.14 percent of the number of patients recovering from the disease.
The daily investigation data in India is given below and the daily positivity rate is currently 21.47 percent.
In the last 24 hours, 3,57,229 new cases of Covid-19 infection have been reported.
71.71% cases of new infections are being reported in 10 states including Maharashtra, Karnataka, Kerala, Uttar Pradesh, Delhi, West Bengal, Tamil Nadu, Andhra Pradesh, Chhattisgarh and Rajasthan.
Maharashtra has the highest number of 48,621 new cases reported. This is followed by Karnataka with 44,438 cases, while Uttar Pradesh has 29,052 new cases.
The total number of active cases in India has increased to 34,47,133. This number is 17 percent of the total infected cases in the country. The total number of active cases has increased by 33,491 cases during the last 24 hours.
12 states – Maharashtra, Chhattisgarh, Uttar Pradesh, Karnataka, Rajasthan, Tamil Nadu, Gujarat, West Bengal, Bihar, Haryana, Andhra Pradesh and Kerala together account for 81.41 percent of the total active cases of India. Each of these states has more than one lakh active cases.
The national death rate has been steadily falling and is currently 1.10 percent.
In the last 24 hours, 3,449 people died from Covid.
10 states account for 73.15 percent of new deaths. Maharashtra had the highest number of deaths at 567, followed by Delhi with the highest at 448 and Uttar Pradesh at 285.
During the last 24 hours, no patient has died due to Covid in two states / union territories. These include Daman Diu and Dadar Nagar Haveli and Arunachal Pradesh.