11/01/2021
Ind vs Aus, 3rd Test: Ashwin, Vihari heroics fight help India secure thriller draw at SCG
New Delhi: A great match at the Sydney Cricket Ground in Australia ended with a draw. Team India performed brilliantly in this match. At one time it seemed that Australia would win the match and take Ajay's lead in the series. But this time the batsmen of Team India got the match drawn with a great performance. All the batsmen, except captain Rahane, batted brilliantly. In this, Hanuma Vihari and R Ashwin batted the entire 43 overs. Rishabh Pant and Hanuma Vihari fought back against the Australia attack despite injury and helped India to a third Test draw. The series is tied at 1-1.
There was a lot of confidence in the players of India today. Be it Cheteshwar Pujara, Rishabh Pant, Hanuma Vihar or Ravichandran Ashwin. Not everyone beat Australia together, but the way this match and series was kept alive, it was incredible. India's draw is also hidden in this draw in the controversial Sydney Test match.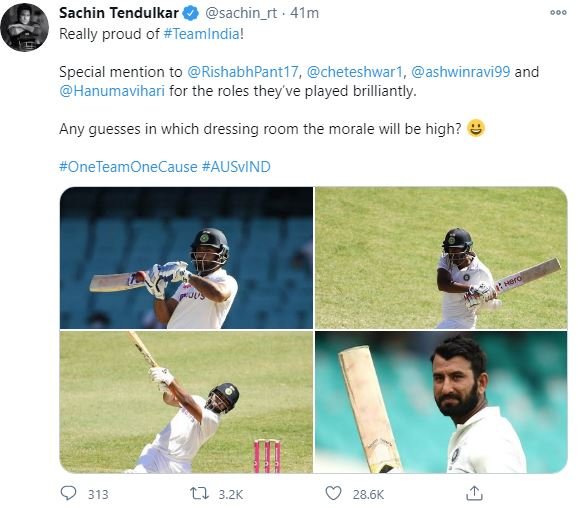 Chasing a target of 407 runs, Team India got off to a great start by Rohit Sharma (52) and after that Rishabh Pant and Cheteshwar Pujara raised India's hopes of victory. Pujara and Rishabh Pant shared a partnership of 148 runs, but Rishabh Pant missed his third Test century by just three runs, while Pujara was bowled by Hazelwood for 77 runs. After that, Team India's hopes of victory were clouded. After this, Ashwin and Hanuma Vihari drew the match together. Team India scored 334 runs losing 5 wickets. Australian bowlers today took a wicket to take wickets. His disappointment was clearly visible on the field.

On the 5th day of the match in Sydney, no one thought that Team India would show such passion while chasing the target of 407 runs. The match was drawn, but the series is still 1–1. After the Sydney Test draw, the series will now be decided in Brisbane where both teams will face each other in the fourth and final Test from 15 January.
The last time India drew a Test match under Virat Kohli's captaincy here on 3-7 January 2019. India are free from pressure in the Test series. In such a situation, if India wins the fourth Test in Brisbane, then it will register a second Test victory on the Australian soil.