13/03/2021
Ind vs Eng First T20: Rishabh Pant Hits an astonishing reverse-sweep six off Jofra Archer
Cricketers' reaction to six reverse-scoops at 140-kmph speed of Rishabh Pant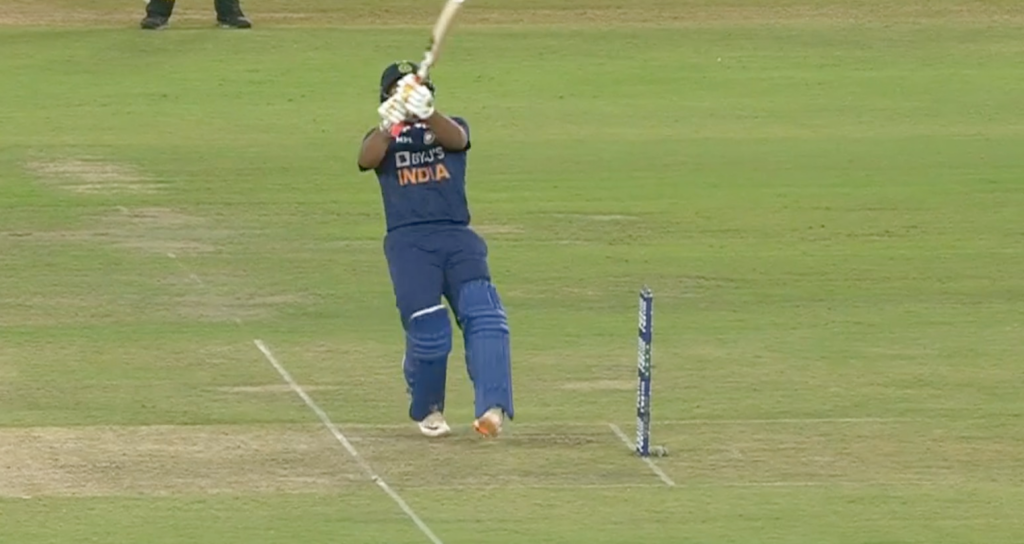 Team India wicketkeeper-batsman Rishabh Pant reverse-scooped 140 km for six in the first T20I by England fast bowler Jofra Archer. Former England captain Kevin Pietersen called it "the greatest shot played in cricket". "What does Pant have for breakfast ?? Steel ??" Akash Chopra wrote. Meanwhile, Wasim Jaffer tweeted, "This is Rishabh Pant's world … We are just living in it."
Rishabh Pant of India has gained considerable reputation for his big hitting feats which recently featured in the Test series against England and earlier against Australia. He has already garnered millions of fans thanks to his adventures in the Indian Premier League (IPL) for Delhi Capital.
Rishabh Pant, known as one of the best and cleanest bats of the ball, returned to the Indian white-ball team after participating in the ODIs and T20 matches of 2019 and 2020, in which KL Rahul took the wicket-keeper- Took over as a batsman. .
However, his prolific batting, having a brilliant batting against England in the home series, was enough for the BCCI selectors to call him back for the five-match T20I series against England at the Narendra Modi Stadium, Ahmedabad. Is being played
Adil Rashid removed Indian captain Virat Kohli for the duck, was caught by Chris Jordan and India saw a tremendous pressure on 3/2, when Rishabh Pant moved to the middle. He had one or two soldiers and then played the most gossamacking shots in recent history.
Jofra Archer bowled a fast ball to Pant's leg and the Indian batsman ramped it over the third-man for a six, leaving everyone shocked. It was a big risky shot by Pant given Archer's pace, but it came and surprised everyone. Even after watching replays on the big screen, Archer praised the shot.
Despite India deciding to go with KL Rahul and Shikhar Dhawan as openers, Virat Kohli said that Rohit Sharma will be his first option with KL Rahul. India made three spinners in Washington Sundar, Axar Patel and Yuzvendra Chahal along with Bhuvneshwar Kumar and Shardul Thakur as pacers.