07/05/2021
Indian Railways included the 100th engine of 12000 HP WAG 12B in its fleet
New Delhi: Indian Railways has added the 100th WAG 12B engine of 12000 horsepower to its fleet. This is a moment of pride for the Indian Railways. The loco is named WAG 12B and its number is 60100. This engine has been manufactured by Madhepura Electric Locomotive Private Limited (MELPL).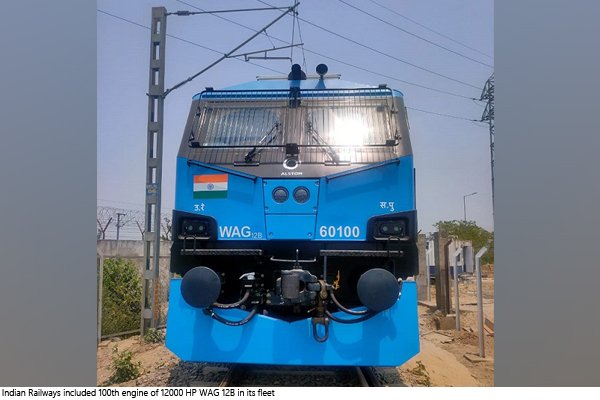 These engines are state-of-the-art and advanced IGBT-based engines that have been manufactured under a 3-phase mission and these electric locomotives have a capacity of 12000 horsepower. These engines of higher capacity will reduce the congestion on the railroads as their average speed is better and they can also easily pull over a freight train with a higher load.
This engine is capable of a maximum connecting speed of 706 kN, which is capable of starting and running a 6000 T train in a gradient of 1 in 150. A twin bo-bo design engine (locomotive) with an axle load of 22.5 T (ton) can be upgraded (upgraded) to 25 tons with a top speed of 120 kmph.
Advanced type locomotives have been built under the Make in India initiative and are revolutionizing the country's freight movement. These engines will help in reducing the congestion of goods trains on the freight corridors and on other routes as these engines are capable of carrying more capacity and also have higher speed. So far, these electric locomotives have been installed in all divisions of Indian Railways and are performing well. There is a hope of producing more such electric locomotives in the coming times.
These electric locomotives will prove to be a win-win for coal freight freight trains for dedicated freight corridors. Electrically powered locomotives can be tracked by GPS systems so that a suitable strategy can be devised for its operation. Antenna and software are being used for this tracking system, which are connected via a microwave link to the server in the control room.
The WAG 12B E-Loco has traveled 48 lakh km so far and has delivered various essential items to 17 states and 2 union territories of the country.
It is worth mentioning here that Indian Railways has entered into a purchase and care agreement with Madhepura Electric Locomotive Private Limited (MELPL).
The first 12000 horsepower electric locomotive was built at the Madhepura Electric Loco Factory in Bihar, India and was commissioned into service at Pandit Deendayal Upadhyay Junction station of Indian Railways on 18 May 2020.