09/01/2021
Indonesia: Suspected wreckage of missing plane SJ-182 from Jakarta
New Delhi: Shortly after flying from Indonesia's capital Jakarta on Saturday, a flight is said to be missing. According to reports, this flight number SJ-182 of Srivijaya Air is feared to have fallen into the sea with 62 people after breaking contact.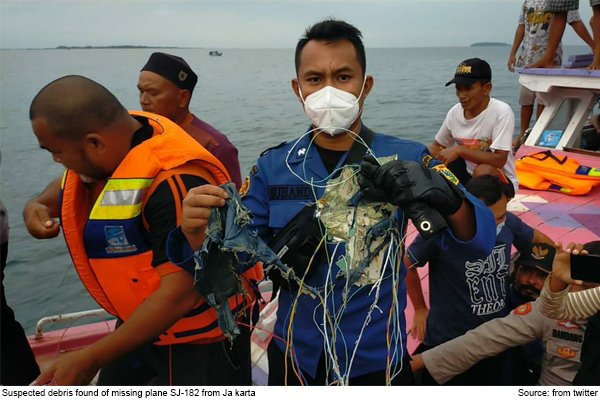 Rescue operations have been started to search for this aircraft. Flight tracker data showed that the jet made a steep dive just four minutes after take-off. According to the racers, rescuers said suspicious debris was found in the water north of the city.
The aircraft took off from Socarno-Hatta Airport and was on an estimated 90-minute flight from Jakarta, the capital of West Kalimantan Province, on the island of Borneo, Indonesia. It is being told that four minutes after takeoff, contact with the aircraft was lost. There were 56 passengers and six crew members aboard the ship.
On the radar, this aircraft has been tracked with a dive of 10 thousand feet in just one minute. Since then the possibility of any untoward has increased. If an aircraft comes down so fast, it increases the chances of crashing.
According to the ministry spokesperson, officials have started search and rescue operations for the missing aircraft with the National Search and Rescue Agency and the National Transportation Safety Committee. The government has sent an investigative squad from Jakarta to the last known location of the aircraft in the Java Sea.
Srivijay Air said in a statement that it is still collecting more detailed information regarding the flight. Airlines said it would issue an official statement later.
The aircraft which has gone missing from Jakarta is also being described as Boeing's 737 Max series. Questions have already been raised about the safety of this aircraft. The news even came that Boeing is considering stopping the production of this aircraft.