28/02/2021
Jaish-ul-Hind claims explosives outside Antilia, demands money from Mukesh Ambani
Mumbai: The secret of an explosive-laden vehicle outside Antilia is growing deeper outside the home of Reliance Indsutry Chairman and veteran industrialist Mukesh Ambani.
Now the responsibility of this incident has been taken by Jaish-ul-Hind, a terrorist organization. This terrorist organization has posted posts related to it on social media. A few days ago the same organization claimed responsibility for the blast outside the Israeli Embassy in Delhi. However, the Mumbai Police has not confirmed this claim.
Jaish-ul-Hind has given an open challenge to the investigating agency in this post and has also demanded money. The post reads, 'This is just the trailer and the picture is still pending. Stop me if you can. You couldn't do anything, when we hit Delhi under your nose, you shook hands with Mossad, but nothing happened. You know what to do Just transfer the money, which has been spoken to you earlier. '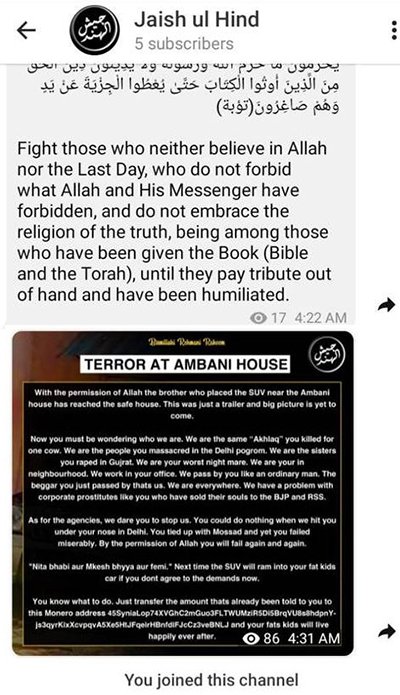 On Thursday, 25 February, an SUV was found in an abandoned condition on Carmichael Road near Ambani's house 'Antilia'. In which 20 gelatin sticks, a letter, a bag and a fake number plate were found. The Mumbai Police has already registered an FIR in the case and has launched a campaign to track people leaving the vehicle.
Reports suggest that the registration number displayed on the SUV matches the vehicle's registration number in Mukesh Ambani's security details. Police have already seized the SUV for further investigation.
Jaish demanded Mukesh Ambani
Jaish-ul-Hind has demanded money from the chairman of Reliance Industries Limited via bitcoin. The message has challenged investigative agencies to say, "Stop if you can." Will have a car. "
A threat letter to Mukesh Ambani and his wife Nita Ambani was also recovered from the SUV found outside his house. Jaish-ul-Hind also claimed responsibility for the blast outside the Israeli embassy in Delhi a few days ago.