30/03/2021
Jal Jeevan Mission: more than 4 crore rural households have piped drinking water so far
New Delhi: Since the announcement made by Prime Minister Narendra Modi on 15 August 2019 to deliver drinking water from pipes to all houses in rural areas of the country by 2024, more than four crore rural houses have pipes (taps) under the Jalajeevan Mission. A new record of supply of drinking water has been established. At present, tap water has become available in more than 1/3 (38 percent) of the total rural households, that is, 07 crore 24 lakh rural houses.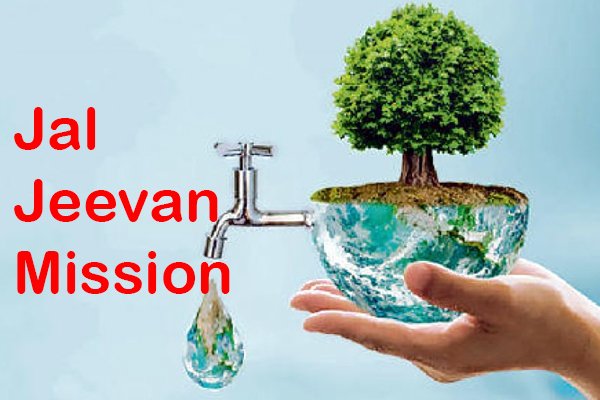 Goa has become the first state in the country where 100 percent rural households are getting drinking water from pipes. This is followed by Telangana and Andaman and Nicobar Islands. The untiring efforts of these states and union territories have ensured the Jalajivan Mission to supply drinking water to every family residing in more than 86,000 villages in 56 districts. Now all the states / union territories are competing among themselves and focusing on their goals to ensure that every person in the country gets safe and clean drinking water and 'no one is left untouched'.
More than 200 people live amidst dense forests in the remote village of Kakisanur in Andhra Pradesh's Velirapad mandal. It is a hilly area and apart from road, there is no electricity. However, this village has recently been receiving drinking water 24 hours seven days a week under the Jalivan Mission of the Government of India in partnership with the State / Union Territories.
All these efforts are in line with the Government of India's resolve to provide clean drinking water to all rural households, with an emphasis on improving the standard of living of the people and making their lives easier. The effect of getting clean drinking water in Kakisnoor village is reflected in the continuously improving health of the rural society.
In this village, it was undoubtedly a difficult task to provide a combination of running tap of drinking water to every household. The district administration faced many difficulties in implementing every house water scheme in this remote village after walking 20 km on the banks of Godavari river. For this, hand-operated drilling machines were taken by boat. Borewells were built near local streams and solar powered dual pumps were installed. Only after doing all this, the supply of drinking water to the entire village became possible.
Seven-year-old Vaishnavi of Orumannaiyur village in Thrissur district in Kerala had to work alone to fetch drinking water when her parents and grandmother Covid-19 succumbed to infection and had to go into quarantine (quarantine). Being the eldest of the three children, he suddenly had to get into the role of growing up.
However, she and her siblings were not allowed to move out of the house as they were also considered by local villagers to be potential carriers of the infection. But his surprise did not remain when the pipe was inserted in his house on the next day as well as a tap for drinking water. Due to timely availability of water from the tap, this family got great help in recovering from the difficulties in his difficult times.
There have been many stories from rural areas that show how Jal Jeevan Mission – Every house has brought a change in the lives of water people. The Water Life Mission is being implemented in collaboration with the states and its objective is to provide adequate quantity of drinking water of quality in accordance with the prescribed standards on a regular and long-term basis.
Adopting the concept of 'beginning at the bottom', the states / UTs are making elaborate plans for this. Accordingly, they have prepared action plans for drinking water supply by piping taps in every rural house. While implementing these, the states are giving priority to the areas affected by water quality, drought prone and desert areas, SC / ST dominated villages, electoral districts and MP Adarsh ​​Gram Yojana villages.
Since most of the children are prone to diseases due to contaminated water, a campaign has been launched to provide tap water to schools and ashramshalas and anganwadis across the country, so that whenever the schools reopen, safe safe drinking water for children to drink. So to receive. This tap water can be used for preparing mid-day meals, hand washing facilities and toilets.
Supply of drinking water in the areas affected by water quality is one of the highest priorities of the Waterlife Mission. Efforts are being made to ensure supply of clean and safe drinking water in villages with availability of contaminated water especially arsenic and fluoride water.
The Jalajeevan Mission gives highest priority to the drinking water being truly potable. This will reduce the diseases caused by water and improve the health of the people. The States / UTs are now opening and upgrading the laboratories to check the water quality for the common people, so that people can get their water samples tested at a nominal fee.
After the call of the Prime Minister, the effort of the Jalajivan Mission is that every person should become connected with water, that is, this age mass movement. On 22 March 2021, the Prime Minister had called upon the people to launch every 'Catch the Rain' campaign on the occasion of World Water Day, to save every drop of rainwater.