27/06/2021
Jammu Air Force Station Blast: Drone use suspected, 2 suspects in custody
New Delhi: At around 1.27 a.m. on Sunday, an explosion occurred on the roof of a building in the technical area of ​​the Air Force-run Jammu airport. Five minutes later, another explosion was reported in a high-security area. The second blast took place in the open area at 1.32 pm. News agency ANI quoted sources as saying that two Indian Air Force (IAF) personnel suffered minor injuries in the blasts. The forensic team reached the spot and inspected it. A team of National Investigation Agency (NIA) has reached Jammu Air Force Station for investigation.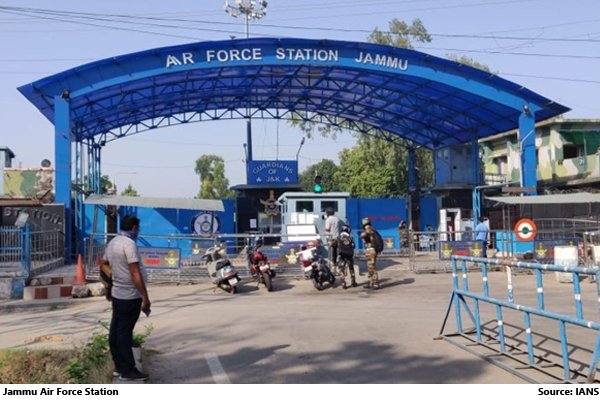 Meanwhile, Defense Minister Rajnath Singh is in Jammu today to review the operational preparedness of the force in Ladakh. Defense Minister Rajnath Singh called on Vice Air Chief Air Marshal H.S. Spoke to Aurora. Air Marshal Vikram Singh is reaching Jammu to take stock of the situation. The investigation of the case has been handed over to the intelligence agencies and according to the information received from the sources, two suspects have also been arrested in this case.
Jammu Airport is located near Satwari, 6 km from Jammu Tawi Railway Station, 110 km from Pathankot Airport and 1 km from National Highway 1.
The Air Force tweeted that there were two mild blasts at the station. One blast caused minor damage to the roof and the second blast occurred in an open area. No jawan has been injured in this and no equipment has been damaged, further investigation is going on in the matter. According to sources, these blasts have been carried out through drones.
After the incident, the security forces sealed the area within minutes. Sources said a high-level meeting of senior police officers and officers of the Indian Air Force is underway at the Air Force base.
(with agency input)