New Delhi: A girl was shot dead in broad daylight due to love jihad in Ballabhgarh, NCR, adjacent to the capital. Justice for Haryana's daughter is being heard from all sides. On the streets from social media, people are demanding a severe punishment for the killers and demanding justice. In this episode, Bollywood actress Kangana Ranaut has also demanded strict punishment of the accused. Kangana Ranaut has even tweeted vandalism with Nikita as jihadi.
Kangana Ranaut tweeted, "Nikita's bravery is no less than Rani Lakshmibai or Padmavati, the jihadist obsessed with murder, he was telling her that if she wanted to live, go with her, but instead of going with her Liked to die Goddess Nikita is dignity and pride for every Hindu woman. "In another tweet, she wrote," What Goddess Nikita did is no less like Jauhar, she is erased but cannot die, we will never forget this sacrifice of Nikita. , I request the Government of India that like Goddess Neerja, Goddess Nikita should also be decorated with the Brewery Awards. "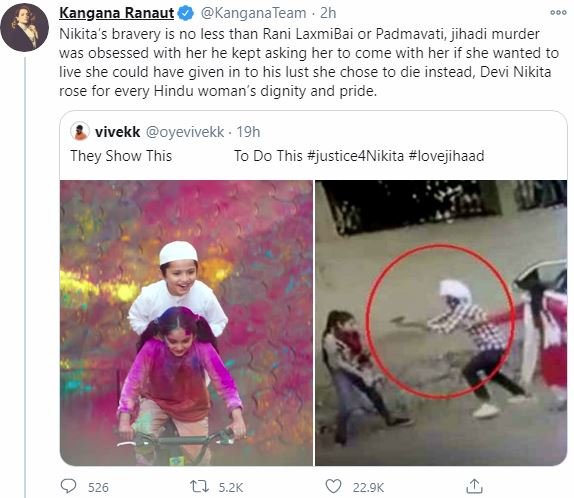 Let me tell you that famous film actress Kangana Ranaut, who was very active in Sushant Singh Rajput case recently, has demanded justice for Haryana's daughter Nikita. Kangana has tweeted in a very aggressive manner. He wrote, "The whole world is shocked by what happened in France, yet these jihadis have no fear of law and order. A Hindu student is shot outside her college in broad daylight because she refused to accept Islam. Immediate action is needed. "Kangana wrote #weWantEncounterOfTaufeeq.
Also read in Hindi: बल्लभगढ़ः निकिता की मौत पर फूटा कंगना का गुस्सा, बोलीं- 'जेहादियों को फांसी दो'