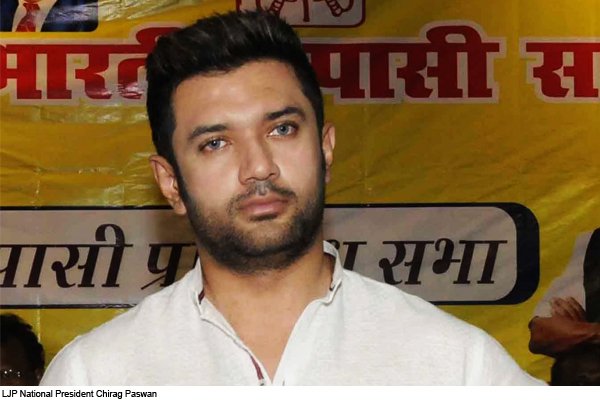 Patna: As the Bihar Assembly elections are getting closer, there is increasing popularity among all the parties. The NDA still continues to pick up seats. On the other hand, the Lok Janshakti Party (LJP) is planning to enter the election field alone. According to Navbharat, the LJP has decided that she will try her luck in Bihar election by separating from the NDA. Although the LJP wants separation from the NDA, it does not want to leave the BJP. If sources are to be believed, the LJP has reservations with the leadership of Chief Minister Nitish Kumar, so it will field its candidates only against the JDU and Hindustan Awam Morcha (Hum), the constituents of the NDA.
A senior LJP leader said that the workers wanted the LJP to contest in 143 seats in Bihar. He also clarified that LJP will not be able to lead in this alliance with the kind of talks that have been held so far. He also said that we have no dispute with the BJP. The LJP has no complaint with the BJP leadership. Now the whole party is on party president Chirag Paswan, whose decision will be honorable.
He told that the party leadership has decided that unless the number of seats we are asking for, if it does not get the same number of seats, then the LJP is certain to be out of the NDA. On the question of how much should be a respectable seat, he said that it will not be a matter on less than 42 seats. Only the party president has the right to have a high seat of seats. But the workers want candidates to contest in 143 seats in the election.
Today will be the day of judgment
According to sources, the LJP is likely to give its verdict by this evening. The LJP has called a meeting of the Central Parliamentary Board at 5 pm on Saturday. State Principal General Secretary Shahnawaz Kaifi and State Parliamentary Board President Raju Tiwari have also been called as special invitees to the meeting. It is believed that this will be the last meeting of the LJP before the election. All 143 candidates will be discussed in the meeting. According to sources, after this meeting, party president Chirag Paswan may formally announce his separation from the NDA in the Bihar elections.
Also read in Hindi: Bihar Election: LJP छोड़गी NDA का साथ, आज शाम होगी औपचारिक घोषणाः सूत्र