29/01/2021
Local people and farmers clash on Singhu border, policemen attacked with a sword
New Delhi: Local people and farmers clashed on the Singhu border on Friday afternoon amid agitation demanding the repeal of the three central agricultural laws implemented by the central government. People on both sides pelted stones at each other.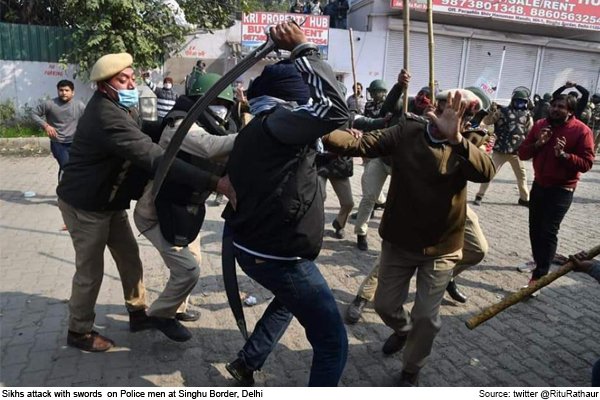 Many people have been injured in this stonewalling of the local people and farmers on the Singhu border.
To overcome the situation, the Delhi Police released tear gas shells and used mild force. Many people including police have been injured in this stone pelting. The atmosphere here is very tense at the moment. It is being told that the local people are angry due to the blocking of the road due to the demonstration of farmers for more than the last 2 months.
According to the information, people and agitators from the villages around the border, who were protesting against the evacuation of the protesters at the Singhu border, clashed with each other, after which things started to get worse. During this, there was stone pelting from both sides. At the same time, the police fired tear gas shells to handle the situation. Some of the agitators also came with a sword, which has been taken into custody by the police. The environment of the area is quite tense.
At present, the Delhi border police has sealed the Singhu border. Nearby shops have also been closed, due to which the movement of people towards Singhu and Kundli has been stopped. In such a situation, the enthusiasm of the farmers who are protesting on the Singhu border is getting cold. Gradually the number of farmers in the dharna is decreasing.