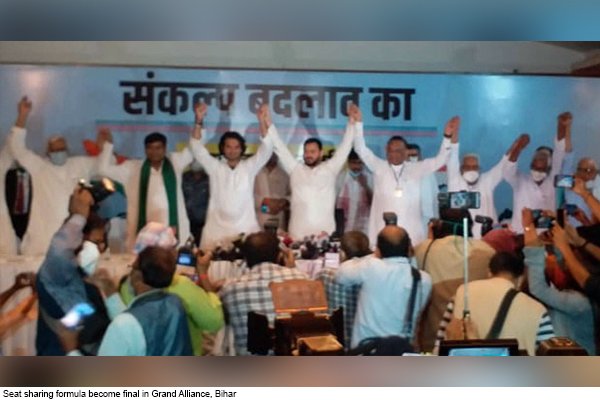 Patna: The ongoing tussle over seat sharing in the Grand Alliance has ended and the seat sharing formula has been finalized. On Saturday, Tejashwi Yadav explained in detail about seat sharing. He said that RJD will contest 144 seats in Bihar elections and Congress will field candidates in 70 seats. At the same time, the party will also field candidates in the by-elections in Valmikinagar Lok Sabha seat. CPM has been given 4 seats, CPI 6, CPI Male 19 seats. It was reported that RJD would give seats to Hemant Soren's JMM and VIP from its quota. Meanwhile, angry with the seat sharing, Mukesh Sahni's party VIP activists created a ruckus over ticket distribution. He also shouted slogans of Tejashwi Yadav Murdabad. VIP chief Mukesh Sahni boycotted the press conference with a demand for 25 seats and got up and walked out.
Annoyed over the seat sharing, VIP party chief Mukesh Sahni said that there was a flaw in the DNA of the grand alliance. He told that after sitting at Rabri residence all day, he was promised that he would be offered 25 seats and the post of Deputy Chief Minister. But in the press conference, Tejashwi has a dagger in his back. Angry activists shouted slogans as soon as Mukesh Sahni left the stage.
On the other hand, Tejashwi Yadav accused the ruling party and said that we will take people of all religions and castes together. Those who could not provide employment in 15 years insulted the unemployed and helpless in the lockdown. They issued a letter banning their arrival. There is a rape in Bihar every four hours, a murder occurs every five hours. We are typical Bihari, who fulfill what they promise. My DNA is quite pure. As the water freezes in one place and the disease that spreads from it, the same situation is with the present government. Bihar needs options like the flowing water of the river and we can give that option.
Also read in Hindi: Bihar Election: महागठबंधन सीट शेयरिंग का फार्मुला फाइनल, वीआईपी हुआ अलग