10/05/2022
Maharana Pratap Jayanti: Here are Untold stories of Maharana Pratap
Maharana Pratap was born in 1540 AD in Kumbhalgarh, Rajasthan. The battle of Haldi Ghati between Maharana and Mughal emperor Akbar is quite famous. Because this war has been considered bigger than many big wars in history.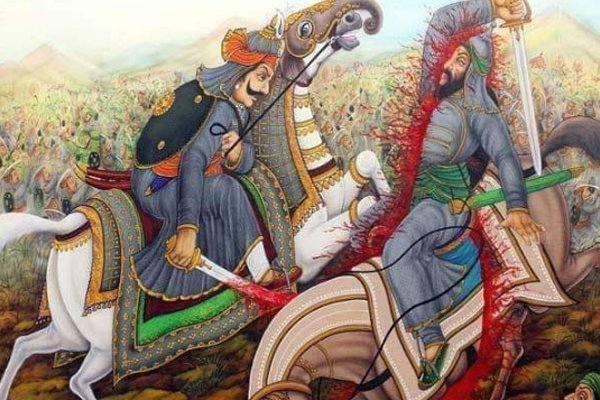 It is known that this war lasted for four hours on 18 June 1576, which proved to be quite disastrous. It is said that in the battle of Haldi Ghati, Veer Maharana had only 20 thousand soldiers while Mughal King Akbar had 85 thousand soldiers. . The battle was fierce, but Maharana did not give up. He struggled to save the motherland from the invaders. It is said that Maharana used 81 kg spear in this war.
At the same time, there was a heavy armor of 72 kg on his chest. He also kept two swords whose weight is said to be 208 kg. We have often heard the mention of Maharana Pratap's horse in poems, his horse's name was Chetak which was very dear to him. Let us tell you that Chetak was very loyal to his master, he used to save Maharana intelligently in the war and used to hide the enemies.
It is said that Maharana was fighting on his Chetak, while Man Singh was fighting on an elephant. Rana attacked Man Singh with a spear and she did not hit him but hit his mahout.
Chetak was badly injured by the sword in the trunk of the mahout and seeing Chetak injured, the Mughal army rained arrows on Maharana. Chetak was bleeding profusely from his feet, yet he left Maharana to a safe place. Maharana survived but his brave Chetak was martyred there due to a heart attack. Maharana Pratap was very saddened by the death of Chetak, after the war he built a memorial for Chetak.
The Battle of Haldi Ghati is considered to be the most famous battle in history. This war is also famous because a Hindu Rajput king was fighting in front of a Hindu Rajput king. In this war, Mansingh Maidan was in the battle on behalf of Akbar against Maharana. This war was fought on 18 June 1576 at Haldighati. The battle was being fought in the scorching afternoon.
Initially, Man Singh felt that the Rajputs were overpowering the Mughals. Then Mihtar Khan, a fighter of the Mughal army, shouted from behind that Emperor Akbar himself was coming to take the battle with a large army. On hearing this, the morale of the Mughal army increased and they started facing the Rajputs in the field and this rumor of Mihtar Khan lowered the morale of the Rajputs and the Mughal army was heavy in this war and Maharana had to face defeat in this war.
After leaving Haldi Ghati, Rana Pratap reached Koliari, a town to the west of Gogunda where his wounded soldiers were being treated. Pratap had come to know that the Mughal army would reach here too. That is why he sent his family and army from there to a safe place and put 20 soldiers to protect the fort. Those 20 soldiers were martyred while fighting the Mughals. Pratap was already apprehensive of war, so he had stopped the ration of Gogunda, after which the Mughal army had to eat.
It is said that after this the Mughal army started eating their horses by killing them. The Battle of Haldighati is mentioned in many books of history, in which there are different opinions on the clear victory of the Mughals. Some historians say that even Emperor Akbar himself was not happy with this battle. It is said that Akbar refused to come to the court of Man Singh, Asaf Khan and Qazi Khan, who were generals in the war.
It is said that there was a Muslim who made a Muslim war policy on behalf of Maharana, whose name was Hakim Khan Sur and he also participated in the war. It is said that after the war, Maharana Pratap changed his war policy and he attacked the Mughals. Started ambushing. It is said that Maharana used to live in a hundred places at once because after attacking the Mughals, he used to go out of the secret path made in the forests and hide somewhere.
According to historians, in the year 1596, Maharana was playing hunting, during which he could never recover, and on January 19, 1598, at the age of 57, Amar Veer died.
About Author
CoCo