11/03/2021
Mamata suffers injuries in Nandigram, alleges for attack, EC asks for report, BJP says 'drama'
New Delhi: West Bengal Chief Minister Mamata Banerjee was allegedly attacked in Nandigram after filing her nomination papers on Wednesday. Television channels showed scenes of CM Mamta injuring her leg from inside her car.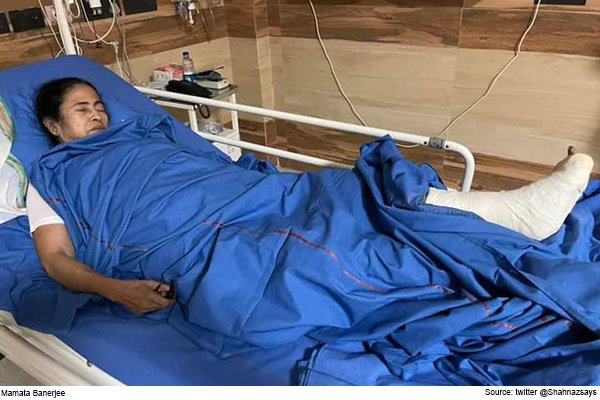 Sources say, she is being taken to the hospital. Mamta said, "Somebody attacked me and my leg got hurt. Someone deliberately stepped on me. "Earlier, Mamta Banerjee had filed her nomination papers from Nandigram. However, Mamta has been discharged from Kolkata to Barolia, Nandigram where she came for treatment.
Meanwhile, BJP general secretary Kailash Vijayvargiya has said, "Nobody can ever dream of attacking Mamata Banerjee."
After the incident, Mamta gave up her plan to stay overnight in Nandigram and immediately left for Kolkata, where she can be taken to the hospital.
Meanwhile, the Election Commission has sought a report from the local administration on the incident after the party lodged a complaint.
Mamta Banerjee told, "I was standing outside my car with the door open. We had to go to a temple there to pray. Some people came around my car and pushed the door. The door hit my leg. "The chief minister claimed that her leg had swollen due to injury and she was feeling feverish."
Talking to reporters, she said that no local policemen were present on the spot when the incident took place. TMC candidate from Nandigram, Banerjee alleged that it was a 'conspiracy'.
Reacting to the incident, the BJP called it a publicity stunt and a 'drama for sympathy'.
State BJP vice-president Arjun Singh said, "Is it the Taliban that their convoy was attacked?" The huge police force was with him. Who can come close? Four IPS officers are in charge of its security and should be suspended. The attackers appear out of nowhere. He has done a play for sympathy. "
Mamta was in Nandigram to file her nomination for the assembly seat, where she will field her former efficiency and BJP leader Suvendu Adhikari.
Banerjee, accused by TMC President Subrata Bakshi, filed his papers at the Haldia sub-divisional office after taking part in a 2-km-long roadshow. She prayed in a temple before filing his nomination.