26/03/2021
Mercedes-Benz launches A-Class limousine in Indian market
Mumbai: India's largest luxury car manufacturer Mercedes-Benz today launched a new definition of the limousine portfolio by launching the much-awaited A-Class limousine in the Indian market and adding new ownership benchmarks for the industry as a whole. The all-new A-Class limousine is the longest and largest in its segment.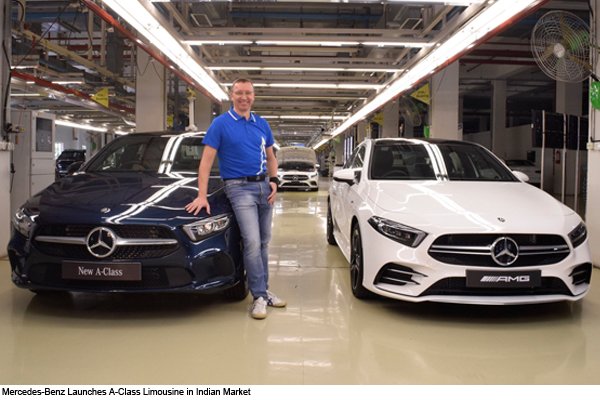 The new A-Class, equipped with highly sporty and high-end features and the latest technology, reinforces Mercedes-Benz's limousine offering. In addition, Mercedes-Benz rolled out the Mercedes-AMG A35 4Matic. The Mercedes-AMG A35 4 Matic is fun to drive and offers an AMG-connected adrenaline experience, taking into account the practicality of daily use.
Both of these much-awaited models were rolled out by Mercedes-Benz India's state-of-the-art production plant at Chakan, Pune by Martin Schwenk, Managing Director and Chief Executive Officer and Piyush Arora, Executive Director, Operations for the Indian market.
Commenting on this important product roll-out, Mercedes-Benz India Managing Director and Chief Executive Officer, Martin Schwenk said, "We are delighted to introduce the much-awaited A-Class limousine in the Indian market. The A-Class limousine is the core of the Mercedes-Benz product and promises to offer a new generation of Indian customers a car that is similar to theirs. With the A-Class Limo, we are giving today's young and successful luxury car customer a very stylish and sporty car that is powered by an industry-first 8-year warranty on the engine and transmission, in addition to a hassle-free ownership experience. Comfortable, high tech, very practical. We are confident that the A-Class will set a new benchmark in the limo segment and attract many new customers for the three-pointed star. "
Commenting on the localization of the AMG A35 4M, Mercedes-Benz India Executive Director, Piyush Arora said, "After the huge market reaction to our first-ever locally made AMG which now becomes a trendsetter Hai, we are very happy to roll-out the second AMG – AMG A35 4Matic in India.