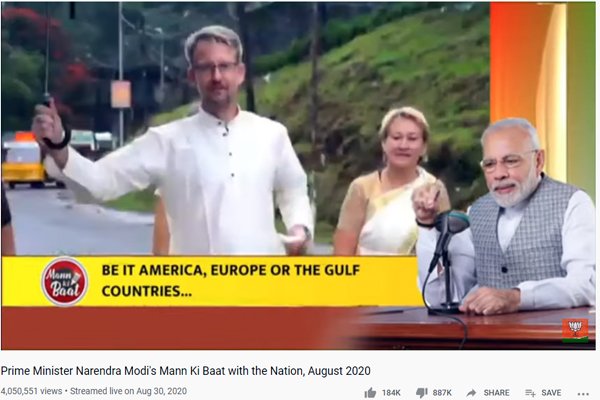 New Delhi: In what many political pundits see as a first strong sign of Prime Minister Narendra Modi's rapidly plummeting rating, his own brainchild "Mann Ki Baat" has failed to enthuse the nation's listeners. To rub salt in its own wounds, the Government acted swiftly and hastily chose to disable the 'dislike' button to the shoe. Sorry, show.
Modi had in his grand style addressed the nation on Sunday, August 30, in the radio programme, the video of which he shared on the social media. But seeing the reaction on the social media, it seems that people probably did not like this programme. For this reason, more people expressed their disapproval than those who liked (aka Bhakts) 'Mann Ki Baat' on YouTube.
A video titled 'Prime Minister Narendra Modi Mann Ki Baat With Nation' has been uploaded on the YouTube account of Narendra Modi. Looking at the figures of the hits to this video, it shows that where 1,84,000 people liked this video, about 8,87,000 disliked it. The video has received above 40 lakh views so far. As the number of views is increasing, dislikes are also increasing rapidly in the same proportion.
Experts believe that this is happening because the PM did not say anything on serious issues like JEE and NEET exams, which students in the Corona era expected the Government to postpone them.
Shortly after 'Mann Ki Baat' aired on social media, #Mann_Ki_Nahi_Students_Ki_Baat started trending on Twitter, with people asking why the Prime Minister did not address the students on the issue of postponing the exam. People started sharing screenshots and links to the video, showing that they disliked it, and also urged people to write to the government seeking to postpone the examinations.
Some comments made on YouTube videos:
"He does not talk about employment, small enterprises and education. You are the PM of India. We do not need mann ki baat … You need to fulfill the duty for which we choose you. "
"As a student, I realized that it was a big mistake to vote in his name. They have destroyed the lives of students preparing for competitive exams. The students are in great depression nowadays as all the vacancies have been sold to private companies. Shame on you We have not voted to give you our lecture. We want a job. "
"enough is enough! Mr. PM, focus on development rather than just talking. "
"When he first came to power, we thought that we would have a leader who would understand the youth, but it was only a hoax."
"When it's time for students to talk, they like to talk about dog breeds and toys."
For the record, the Prime Minister had talked about the need to make India a toy hub, and also urged people to adopt native breeds of native dogs over non-native people. Due to this, the students got angry and they disliked the video of PM.