30/04/2021
More than 2 cr 45 lakh eligible beneficiaries registered for the third phase of vaccination
New Delhi: In a significant achievement, more than 2.45 crore eligible beneficiaries have registered themselves on the Kovin digital platform (till 9.30 am today) after registration for the third phase of immunization commenced on 28 April 2021. On April 28, 2021, more than 1.37 crore people had registered themselves. On April 29, 2021, more than 1.04 crore people registered their names.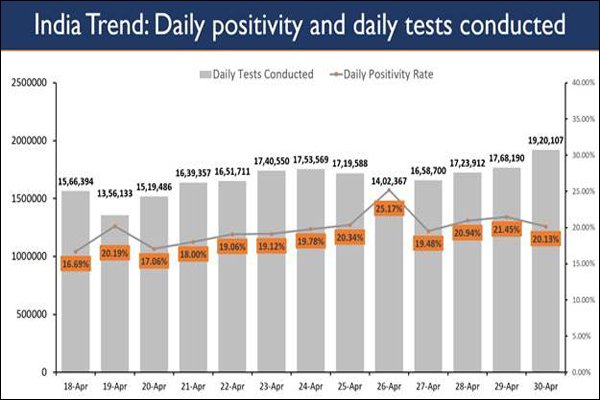 Meanwhile, the total number of Covid vaccine supplements in the country today has crossed 15.22 crore.
As of 7 am today, a total of 15,22,45,179 vaccine doses have been given through 22,43,097 sessions. Among them, there are 93,86,904 health workers who have got the first vaccine and 61,91,118 health workers who have been given the second vaccine.
The first dose of vaccine has been given to 1,24,19,965 workers of the frontline and the second dose has been given to 67,07,862 frontline workers. 5,19,01,218 eligible beneficiaries over 60 years of age have undergone the first vaccine and 1,04,41,359 eligible beneficiaries have also taken the second dose of the vaccine. 5,17,78,842 people aged 45 to 60 years have been given the first vaccine while 34,17,911 people have also been given the second vaccine.
So far, 67.08 percent doses of total vaccination in the country have been given to people from ten states.
In the last 24 hours, more than 21 lakh people were given Covid vaccination.
On the 104th day of the vaccination campaign day (April 29, 2021), 22,24,548 vaccines were administered. In 21,810 sessions of vaccination, 12,74,803 eligible beneficiaries were given the first vaccine and 9,49,745 beneficiaries were given the second dose of vaccine.
In another significant achievement, over 19 lakhs (19,20,107) samples were tested in the last 24 hours, the highest number of cavid samples tested in India.
The graph below shows daily Covid cases and daily investigations in India.
To date, 1,53,84,418 Covid patients have been cured. The health rate of Covid in the country is 81.99 percent.
2,97,540 Covid patients have recovered in the last 24 hours.
76.61 percent of people recovering from treatment are from ten states.
3,86,452 new cases were registered in the last 24 hours.
73.05 percent of the new cases are coming from ten states like Maharashtra, Uttar Pradesh, Delhi, Karnataka, Kerala, Chhattisgarh, West Bengal, Tamil Nadu, Andhra Pradesh and Rajasthan.
Maharashtra has the highest number of 66,159 daily new cases reported. This was followed by 38,607 from Kerala and 35,104 new patients from Uttar Pradesh.
The total number of active patients in India has reached 31,70,228. This constitutes 16.90 percent of the total positive cases in the country. There has been an increase of 85,414 cases in total active cases in the last 24 hours.
11 states account for 78.18 percent of India's total active cases.
Covid mortality is decreasing in the country and currently it is 1.11 percent.
3,498 Covid patients have died in the last 24 hours.
Now 77.44 percent of the deaths are from ten states. The death toll from this epidemic in Maharashtra has been 771. At the same time, 395 people have died in Delhi.
Four states / UTs have not reported any patient deaths from Covid-19 in the last 24 hours. These are Daman and Diu and Dadra and Nagar Haveli, Nagaland, Tripura and Andaman and Nicobar Islands.
The National Institute of Mental Health and Neuro-Sciences (NIMHANS) under the Ministry of Health and Family Welfare operates a toll-free 24×7 helpline (080-4611 0007) to provide solutions to mental health issues and psychosocial support during an epidemic. Has been doing.