As the year 2021 is coming to an end, Google has released its search list for the year 2021 in various categories. The list is a compilation of the top Google Trends 2021. Check out who is the most searched person on Google in India in 2021.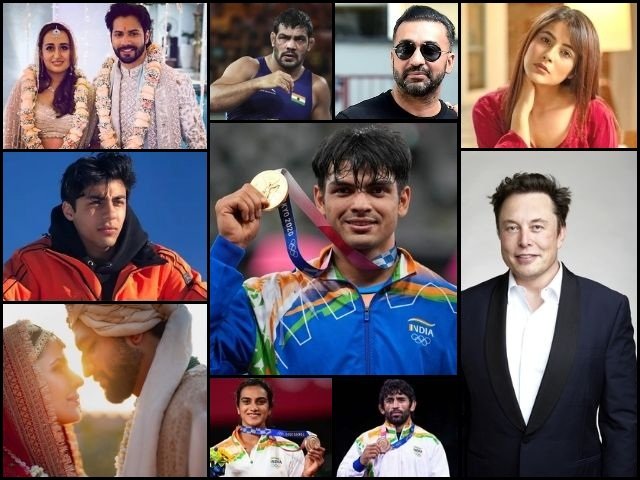 List of Most Searched Person on Google in India in 2021: Google recently released its Search List for the year 2021, which is a compilation of top Google trends in India from various categories like movies, cuisines, personalities and so forth.
As the year 2021 comes to an end, let us take a look at the most searched personalities on Google in India.
Google Trends 2021: Top 10 people on Google Year in Search 2021 list
10- Natasha Dalal: Fashion designer Natasha Dalal married her long time boyfriend and Bollywood actor Varun Dhawan in an intimate ceremony on 24 January 2021. As their marriage became the talk of the town, Natasha became the 10th most searched person on Google in India. 2021.
9- Sushil Kumar: Former Indian wrestler and Olympian Sushil Kumar has been in the news ever since the murder of former junior national wrestling champion Sagar Dhankhar and the arrest by Delhi Police in connection with the Chhatrasal Stadium controversy.
8- Bajrang Punia is a 27-year-old freestyle wrestler and Olympian who competes in the 65 kg weight category. Her bronze medal in the 2020 Tokyo Olympics brought her a lot of fame.
7- PV Sindhu: Ace-badminton player PV Sindhu is ranked seventh in the list of most searched persons on Google in India in 2021. She won a bronze medal at the 2020 Tokyo Olympics, becoming the second individual athlete from India to win two consecutive medals. in the Olympic Games. She is also the only Indian to become the Badminton World Champion.
6- Vicky Kaushal: Vicky Kaushal came into limelight for professional as well as personal reasons. He recently tied the knot with Bollywood actress Katrina Kaif in an intimate ceremony at Six Senses Fort Barwara, Rajasthan. On the professional front, he attended the premiere of 'Sardar Udham' and announced his next project- Govinda Naam Mera.
5- Elon Musk: Business magnate and entrepreneur made headlines for the 'Musk Effect' in which one of his tweets resulted in the crypto markets booming or crashing. He has also surpassed Jeff Bezos as the richest person in the world. He is the founder and CEO of SpaceX, CEO of Tesla, Inc., and co-founder of Neuralink, OpenAI and Zip2.
4- Raj Kundra: Raj Kundra ranked fourth in the list of most searched people on Google in India in 2021. He was arrested in July 2021 on suspicion of aiding in the production and distribution of porn films. He is currently out on bail.
3- Shahnaz Gill: Shahnaz Gill is included in the top three in the list of most searched people on Google in 2021 in India. She rose to fame after appearing in Bigg Boss and also appeared in several music videos in 2021. Due to the untimely demise of her rumored boyfriend Siddharth Shukla, people showered her with love and strength on social media. His video song tribute to Siddharth touched the hearts of fans across the country
2- Aryan Khan: Shah Rukh Khan's son Aryan Khan was in news after being detained by the NCB in October 2021 after raiding an alleged rave party on a cruise ship off the coast of Mumbai. He was kept in Arthur Road Jail for almost a month before being granted bail by the Bombay High Court.
1- Neeraj Chopra: Neeraj Chopra became a household name after winning the gold medal at the 2020 Tokyo Olympics in javelin throw in his Olympic debut. He is second only to Abhinav Bindra to win an individual Olympic gold medal and is the youngest Indian Olympic gold medalist in an individual event. Due to his outstanding performance in the Tokyo Olympics, Neeraj Chopra became the most searched person on Google in India in 2021.