26/02/2021
Mukesh Ambani received a threatening letter from an abandoned vehicle,
Mumbai: Police and administration were stirred up after an explosive material (Explosives Material) was found in an SUV car outside Antilia, the home of billionaire Mukesh Ambani, in Mumbai on Thursday. An unclaimed SUV car was found parked outside Mukesh Ambani's house.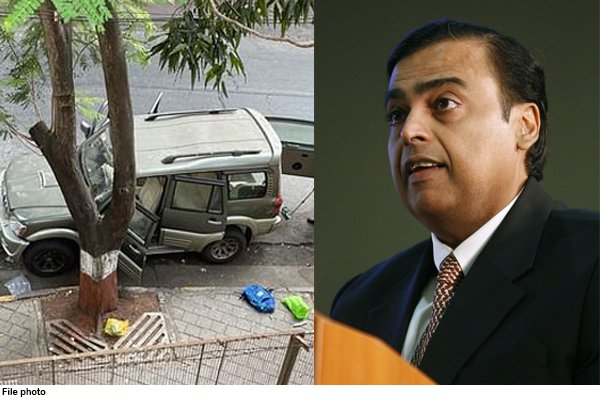 After police investigation, 20 gelatin sticks were recovered from them. Police said that the vehicle which was found near Mukesh Ambani's house was stolen. A bag has also been found inside the car, inscribed on it, 'Mumbai Indians'. A threatening letter has also been found with the bag. According to ABP News, the letter wrote, "Neeta Bhabhi and Mukesh Bhaiya Family, this is a glimpse. Next time this item will be completed. Arrangements have been made to blow up the whole family, to go steady. "
5 main things related to an abandoned car
This car is not registered in Maharashtra. According to police sources, the vehicle was stolen.
The gelatin sticks found in the vehicle have come from Nagpur, which is being guessed by the police, because those sticks have a sticker from a Nagpur company.
According to the police, Ambani House was Reiki for about a month. His family movements were monitored. The numbers of all their trains were noted.
The car was parked about 400 meters from Antilia. Efforts were made to park closer but could not be done due to security reasons.
The Mumbai Police has lost its hands after the explosive material was found outside the bungalow of the country's renowned billionaire businessman Mukesh Ambani. According to Maharashtra Home Minister Anil Deshmukh, the investigation into the case has been handed over to the Crime Branch of the Mumbai Police. Apart from the Anti-Terrorist Squad, intelligence agencies have also started to disclose the incident. All the checkposts in Mumbai are on alert and vehicles are being searched. The bomb squad has taken possession of the car. Security around Antilia has been tightened.
The Mumbai Police is looking for footage of CCTV cameras installed around it so that the case can be disclosed. The number plate on the car, its number is said to be similar to a car used in Ambani's house. Ambani's security personnel got suspicious due to this, after which the police was informed.
A Mumbai Police spokesman said that an FIR has been lodged against unknown people at Gamdevi police station. He said that the police have registered a case under various sections of the Indian Penal Code. The Mumbai Police and the Crime Branch are under intense scrutiny in the case.
Maharashtra Home Minister Anil Deshmukh said in a tweet that the truth will be revealed soon in the investigation of the crime branch.