10/06/2021
Mumbai: Building collapse in Malad, 11 killed, 17 injured
MUMBAI: At least eleven people were killed and 17 were injured when a residential building collapsed at the New Collector's premises in Mumbai's Malad West late on Wednesday night. Brihanmumbai Municipal Corporation (BMC) gave this information. Search and rescue operations are on for the trapped people. Search and rescue operation is on to rescue the people trapped in the crashed building. The injured have been admitted to BDBA Hospital, where they are undergoing treatment.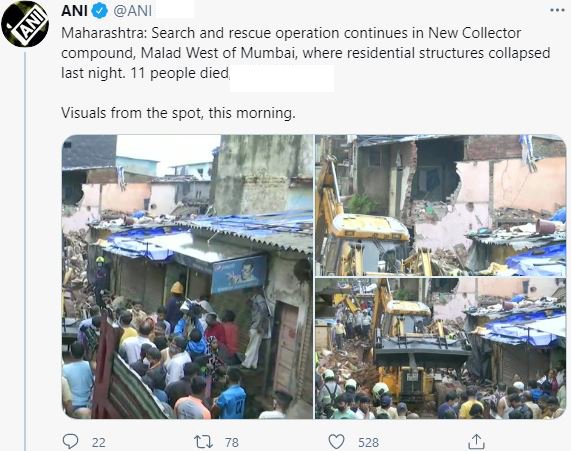 According to the BMC, a building collapsed and hit a nearby residential structure. The municipal corporation said the incident also affected another residential site in the area which is now in a "dangerous condition". Residents are being evacuated from the affected residential buildings.
Maharashtra minister Aslam Shaikh, who reached the spot, said, "The buildings have collapsed due to rain. Rescue operation is on. The injured people have been shifted to the hospital. The debris of the buildings is being cleared to see if there are more people under the debris.
Siddiqui, a local resident present on the spot, said that the incident happened at around 10 pm.
(with agency input)