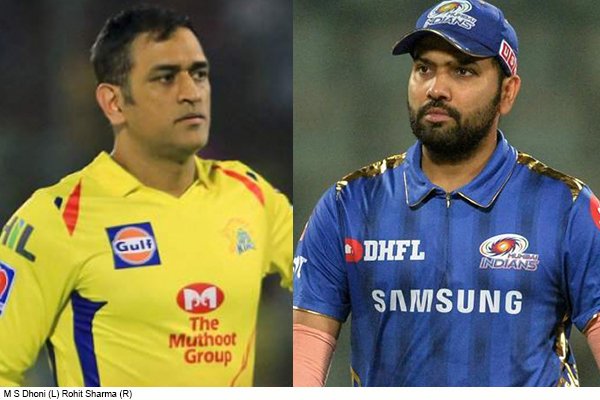 New Delhi: The much-awaited Indian Premier League (IPL) schedule has been announced today. Keeping the tradition, the defending champions Mumbai Indians will play the opening match with the runners-up Chennai Super Kings. The match will be played in Abu Dhabi on September 19 from 7:30 pm Indian time. The IPL is being rolled out of India due to a spurt in Corona cases. The upcoming edition of the world's largest T20 league will be held in the UAE at three locations in Dubai, Abu Dhabi and Sharjah.
After the first match of the tournament, Dubai will host their first game the next day, when the Delhi team will face the Kings XI Punjab team. After this, the third match between Sunrisers Hyderabad and Royal Challengers Bangalore will be played on Monday. After this, the next match will be played on 22 September between Rajasthan Royals and Chennai Super Kings in Sharjah. At the moment the schedule of league matches has been announced. Playoff dates and grounds will be announced later.
The 13th season will start from 19 September, while the final match will be played on 10 November. It consists of 10 double headers i.e. two matches a day and the evening matches will now begin half an hour earlier at 7:30 pm (according to Indian time). Let us know that the 13th edition of the IPL was to be held from March first but it was postponed due to the rising outbreak of Corona virus.
On the day of the two matches, the first match will be held from 3:30 pm Indian time, while the second match will be played from 7:30 pm. On the day there will be only one match, on that day the match will be from 7:30 pm. 24 matches will be played in Dubai, 20 in Abu Dhabi and 12 in Sharjah.
Actually, the tournament schedule was already announced, but in the meantime, two players from Chennai Super Kings were found infected with Corona virus. The report of Chennai Super Kings players has been negative. Now this team has started practice. The Super Kings were to begin practice in the UAE from 28 August, but had to postpone it after 13 members of the squad (2 players and 11 members of the support staff) found positive.
Indian Premier League (IPL) 2020: Schedule
| | | |
| --- | --- | --- |
| Match | Date | Time (IST) |
| 1. Mumbai Indians (MI) Vs Chennai Super Kings (CSK) | 19 Sept. 2020 | 8:00 PM |
| 2. Delhi Capitals (DC) Vs Kings XI Punjab (KXIP) | 20 Sept. 2020 | 8:00 PM |
| 3. Royal Challengers Bangalore (RCB) Vs Kolkata Knight Riders (KKR) | 20 Sept. 2020 | 8:00 PM |
| 4. Sun Risers Hyderabad (SRH) Vs Mumbai Indians (MI) | 21 Sept. 2020 | 8:00 PM |
| 5.Chennai Super Kings (CSK) Vs Rajasthan Royals (RR) | 22 Sept. 2020 | 8:00 PM |
| 6. Kolkata Knight Riders (KKR) Vs Delhi Capitals (DC) | 23 Sept. 2020 | 8:00 PM |
| 7.Kings XI Punjab (KXIP) Vs Sun Risers Hyderabad (SRH) | 24 Sept. 2020 | 8:00 PM |
| 8.Mumbai Indians (MI) Vs Royal Challengers Bangalore (RCB) | 25 Sept. 2020 | 4:00 PM |
| 9.Rajasthan Royals (RR) Vs Delhi Capitals (DC) | 26 Sept. 2020 | 8:00 PM |
| 10.Kolkata Knight Riders (KKR) Vs Chennai Super Kings (CSK) | 27 Sept. 2020 | 8:00 PM |
| 11.Royal Challengers Bangalore (RCB) Vs Sun Risers Hyderabad (SRH) | 27 Sept. 2020 | 8:00 PM |
| 12.Kings XI Punjab (KXIP) Vs Mumbai Indians (MI) | 28 Sept. 2020 | 8:00 PM |
| 13.Rajasthan Royals (RR) Vs Kolkata Knight Riders (KKR) | 29 Sept. 2020 | 4:00 PM |
| 14.Delhi Capitals (DC) Vs Royal Challengers Bangalore (RCB) | 30 Sept. 2020 | 8:00 PM |
| 15.Chennai Super Kings (CSK) Vs Kings XI Punjab (KXIP) | 1 Oct. 2020 | 8:00 PM |
| 16.Sun Risers Hyderabad (SRH) Vs Rajasthan Royals (RR) | 2 Oct. 2020 | 4:00 PM |
| 17.Kolkata Knight Riders (KKR) Vs Mumbai Indians (MI) | 3 Oct.2020 | 8:00 PM |
| 18.Delhi Capitals (DC) Vs Chennai Super Kings (CSK) | 4 Oct.2020 | 8:00 PM |
| 19.Kings XI Punjab (KXIP) Vs Royal Challengers Bangalore (RCB) | 4 Oct.2020 | 8:00 PM |
| 20.Mumbai Indians (MI) Vs Rajasthan Royals (RR) | 5 Oct. 2020 | 8:00 PM |
| 21.Sun Risers Hyderabad (SRH) Vs Kolkata Knight Riders (KKR) | 6 Oct.2020 | 8:00 PM |
| 22.Kings XI Punjab (KXIP) Vs Chennai Super Kings (CSK) | 7 Oct. 2020 | 8:00 PM |
| 23.Royal Challengers Bangalore (RCB) Vs Rajasthan Royals (RR) | 8 Oct. 2020 | 8:00 PM |
| 24.Delhi Capitals (DC) Vs Kolkata Knight Riders (KKR) | 9 Oct. 2020 | 4:00 PM |
| 25.Chennai Super Kings (CSK) Vs Sun Risers Hyderabad (SRH) | 10 Oct.2020 | 8:00 PM |
| 26.Mumbai Indians (MI) Vs Kings XI Punjab (KXIP) | 11 Oct. 2020 | 8:00 PM |
| 27.Rajasthan Royals (RR) Vs Sun Risers Hyderabad (SRH) | 11 Oct. 2020 | 8:00 PM |
| 28.Royal Challengers Bangalore (RCB) Vs Delhi Capitals (DC) | 12 Oct.2020 | 8:00 PM |
| 29.Kolkata Knight Riders (KKR) Vs Kings XI Punjab (KXIP) | 13 Oct. 2020 | 8:00 PM |
| 30.Chennai Super Kings (CSK) Vs Mumbai Indians (MI) | 14 October 2020 | 8:00 PM |
| 31.Rajasthan Royals (RR) Vs Royal Challengers Bangalore (RCB) | 15 Oct. 2020 | 8:00 PM |
| 32.Kings XI Punjab (KXIP) Vs Kolkata Knight Riders (KKR) | 16 Oct. 2020 | 4:00 PM |
| 33.Sun Risers Hyderabad (SRH) Vs Delhi Capitals (DC) | 17 Oct.2020 | 8:00 PM |
| 34.Chennai Super Kings (CSK) Vs Royal Challengers Bangalore (RCB) | 18 Oct. 2020 | 8:00 PM |
| 35.Mumbai Indians (MI) Vs Kolkata Knight Riders (KKR) | 18 Oct. 2020 | 8:00 PM |
| 36.Rajasthan Royals (RR) Vs Kings XI Punjab (KXIP) | 19 Oct.2020 | 8:00 PM |
| 37.Sun Risers Hyderabad (SRH) Vs Chennai Super Kings (CSK) | 20 Oct.2020 | 8:00 PM |
| 38.Mumbai Indians (MI) Vs Delhi Capitals (DC) | 21 Oct.2020 | 8:00 PM |
| 39.Kolkata Knight Riders (KKR) Vs Rajasthan Royals (RR) | 22 Oct. 2020 | 8:00 PM |
| 40.Royal Challengers Bangalore (RCB) Vs Kings XI Punjab (KXIP) | 23 Oct.2020 | 4:00 PM |
| 41.Delhi Capitals (DC) Vs Sun Risers Hyderabad (SRH) | 24 Oct. 2020 | 8:00 PM |
| 42.Rajasthan Royals (RR) Vs Chennai Super Kings (CSK) | 25 Oct. 2020 | 8:00 PM |
| 43.Sun Risers Hyderabad (SRH) Vs Royal Challengers Bangalore (RCB) | 25 Oct. 2020 | 8:00 PM |
| 44.Delhi Capitals (DC) Vs Mumbai Indians (MI) | 26 Oct.2020 | 8:00 PM |
| 45.Chennai Super Kings (CSK) Vs Kolkata Knight Riders (KKR) | 27 Oct.2020 | 8:00 PM |
| 46.Kings XI Punjab (KXIP) Vs Rajasthan Royals (RR) | 28 Oct.2020 | 8:00 PM |
| 47.Mumbai Indians (MI) Vs Sun Risers Hyderabad (SRH) | 29 Oct.2020 | 8:00 PM |
| 48.Chennai Super Kings (CSK) Vs Delhi Capitals (DC) | 30 Oct. 2020 | 4:00 PM |
| 49.Kolkata Knight Riders (KKR) Vs Royal Challengers Bangalore (RCB) | 31 Oct. 2020 | 8:00 PM |
| 50.Rajasthan Royals 52.(RR) Vs Mumbai Indians (MI) | 1 Nov. 2020 | 8:00 PM |
| 51. Sun Risers Hyderabad (SRH) Vs Kings XI Punjab (KXIP) | 1 Nov.2020 | 8:00 PM |
| 52. Delhi Capitals (DC) Vs Rajasthan Royals (RR) | 2 Nov.2020 | 8:00 PM |
| 53.Royal Challengers Bangalore (RCB) Vs Chennai Super Kings (CSK) | 3 Nov.2020 | 8:00 PM |
| 54. Kolkata Knight Riders (KKR) Vs Sun Risers Hyderabad (SRH) | 4 Nov. 2020 | 8:00 PM |
| 55.Kings XI Punjab (KXIP) Vs Delhi Capitals (DC) | 5 Nov. 2020 | 8:00 PM |
| 56.Royal Challengers Bangalore (RCB) Vs Mumbai Indians (MI) | 6 Nov. 2020 | 8:00 PM |
| 57.Qualifier-1 | TBD | 8:00 PM |
| 58. Eliminator | TBD | 8:00 PM |
| 59. Qualifier-2 | TBD | 8:00 PM |
| 60. FINAL | 8 Nov. 2020 | 8:00 PM |